One man was shot after an argument turned physical outside a gas station in La Mesa Friday morning, police said.
La Mesa police said they were called to the intersection of University and Olive avenues around 9:40 a.m. At the scene, a man was found with several gunshot wounds, Lt. Katy Lynch said.
Video from the scene showed police tape blocking the entrances to a Speedway Express gas station. Several yellow evidence markers were positioned on the ground where the shooting occurred.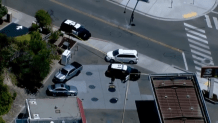 The victim, who was only identified as a 44-year-old man, Sharp Memorial Hospital in San Diego, where he was pronounced dead on arrival, police said.
The La Mesa police investigation revealed the two men got into a verbal argument before one man shot the other. Police believe that he and the victim were acquainted.
"At this time we don't know what the relationship is between the suspect and the victim, however we don't believe this was a random act of violence," Lynch said.
The suspected shooter, described as a man in his early- to mid-30s dressed in jeans and a black shirt, and a woman left the scene westbound on University Avenue in a dark-colored SUV and have not been located.
Police shut down the westbound lanes of University Avenue between Parks Avenue and Culbertson Street to allow for investigation of the fatal shooting. The closure was lifted around 3 p.m.
This is a developing story. Details may change as information becomes available.