A $3.9 million renovation project to a downtown San Diego theatre has been completed including an upgraded lobby, concession stands and restrooms.
Lyceum Theatres – home of the San Diego Repertory Theatres, located at 79 Horton Plaza under Westfield Horton Plaza mall – held an open house Tuesday evening to unveil renovations to its public spaces.
The change of scenery includes shiny, new lobbies featuring raised ceilings and lots of natural light, new concession areas – including a café – and wood and glass finishes throughout the space. The bathrooms were also completely renovated.
These are the biggest changes to the theatre since it opened in 1986. The project took about a year to complete.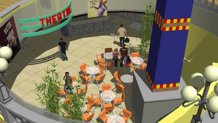 The San Diego Repertory Theatre is known for producing intimate, provocative works across several stages and galleries in its downtown space. With Lyceum Theatres, the Repertory produces and hosts more than 300 events and performances annually.
Lyceum Theatres is currently running "Our Great Tchaikovsky" through Feb. 12. After that, from Feb. 23 through March 19, the risqué comedy "Sex With Strangers" will hit the stage, followed by the Feb. 24 through Feb. 26 run of the 25th annual "Kuumba Festival: Black to Power," a celebration of African-American heritage.