Nearly 100 surfers gathered at Imperial Beach Saturday to remember a surfer who spent every day he could over the last 30 years riding the waves.
Walter Llanes, 43, died in his sleep last week. He was a real estate broker, but his family said he loved to surf.
"Every morning he would wake up to go surf," his widow Cynthia told NBC 7. "This was his true passion, and I'm so happy and blessed that everyone could be here. Especially his children…and see how much people loved and supported their dad."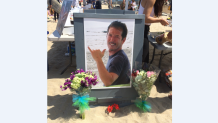 Cynthia said she wanted her husband to be remembered for his beautiful spirit, and as a man who never backed down from a challenge or a wave.
"It's just something so surreal, you don't want to believe it," close friend Eric Von Sydow said. "Everyone gets so tied up in the rat race that sometimes we forget to make contact and tell our friends, especially our longtime friends, that we love them, "added Von Sydow.
Llanes had two young children, a daughter and a son. Cynthia said they don't completely understand what's going on yet, but are asking a lot of questions. "Everything we're taking day by day. It's a lot," she explained.
"Every single day he'd go surfing with my brother and me," his daughter said.
Cynthia explained her husband was in good health and his cause of death is still being investigated by the San Diego County Medical Examiner's office.
"I'm just so overjoyed and thankful," she said about the paddle out. "It's so good for the kids and our friends and family to see that he was loved no matter what and won't be forgotten."
The event was also to help raise funds for Llanes' family. A close friend of LLanes has set up a place to donate on Paypal.