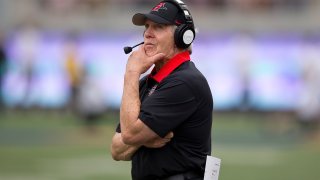 Long-time Aztec head coach Rocky Long has decided to retire.
San Diego State University held a news conference Wednesday afternoon to announce the move. Athletic Director J.D. Wicker introduced Brady Hoke as his replacement.
Hoke hired Long in 2009 as his Defensive Coordinator. Now the former Aztec head coach will replace the man that made San Diego State a consistent winner.
Even though he announced his retirement, Long may not be done coaching. He said he enjoys the occupation, but not all that comes with being a head coach. After word got out that he might step down, programs began reaching out to him to see if he'd be interested in opportunities as a Defensive Coordinator. Long said he is listening to those offers.
There was speculation that Rocky's departure could be the result of administration wanting him to make changes to his coaching staff. He said those conversations never happened, and that there was no pressure to do so. As for the Aztec coaching staff, Hoke said no decisions had been made, but that he would began having conversations with SDSU's coaches on Thursday.
Long just wrapped up his ninth season at SDSU. He compiled a record of 81-38 during that time. The Aztecs won 10 or more games in four of his last five seasons. In 2019 they finished 10-3, with a 48-11 win over Central Michigan in the New Mexico Bowl.
He guided the program to three Mountain West Championships. San Diego State made a Bowl game each of his nine seasons and won four of them. The Aztecs appeared in the Associated Press Top-25 in three seasons under Long's watch.
In 2019 he fielded one of the top defenses in the nation. The Aztecs ranked second in rush defense, allowing just 75.4 yards per game. They gave up just 12.7 points, third best in the country. Their 18 interceptions were the fourth highest total. And they placed sixth in total defense, allowing 287.8 yards per game.
Hoke spent two years as the Aztecs' head coach, before leaving to take over Michigan after the 2010 season. He returned to the Mesa as defensive line coach in 2019.