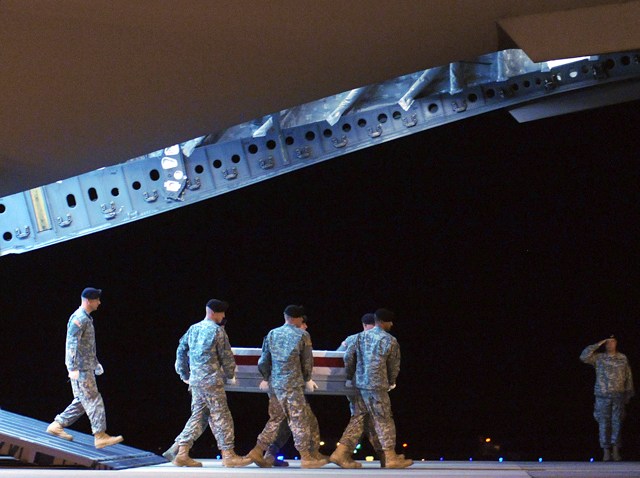 A San Diego soldier was killed in action in Afghanistan over the weekend.

Staff Sgt. Conrad A. Mora, 24, died on Saturday in Qalat, Afghanistan.

Mora and three other soldiers were killed when "insurgents attacked their military vehicle with an improvised explosive device," according to military officials. The squad leader wrote under the employer section in his Facebook page that he was "blowing things up ... but currently in Afghanistan clearing the roads of things that blows us up."
Mora enlisted in the Army on June 22, 2004. He was on his second deployment to Afghanistan at the time of his death. His miliray honors include an Army Commendation Medal, six Army Achievement medals, a good conduct medal, the National Defense Service medal, a Korean Defense Service medal, two Afghanistan Campaign medal, a Global War on Terrorism Service medal, an NCO Professional Development ribbon, an Army Service ribbon, two Overseas Service ribbons, a pair of NATO medals, a Combat Action badge, a Drivers and Mechanics badge, and a Marksmanship Qualification Badge -- Expert with Missile.

Also killed on Saturday were Sgt. Daniel Lim, 23, of Cypress, Calif.; Spc. Joseph A. Bauer, 27, of Cincinnati; and Pfc. Andrew L. Hand, 25, of Enterprise, Ala. The men were all members of the 5th Battalion, 3rd Field Artillery Regiment, 17th Fires Brigade, which is based in Washington at Joint Base Lewis-McChord near Tacoma, Wash.

"Specialist Hand's stepmom said Hand knew this assignment would be dangerous and had asked his family to pray for his safety," reported a TV station in Alabama.