A local baker and previous winner of Food Network's "Cake Wars" placed second on an all-star episode of "Cake Wars Champs" with a dynamic, elaborate Lego Hero Town cake.
Escondido baker Linda Caro, owner of Little Hunnys Cakery, and her assistant, Alicia Becerra, owner of Alicia's Delicias, competed on the March 6 episode of the show.
Caro previously appeared on "Cake Wars" last fall with her assistant, Alicia Becerra. Together, the pair won the grand prize with a Powerpuff Girls-themed cake.
In the first round, dubbed "Batter Up," the contestants got 75 minutes to make a cake which includes one of the challenge flavors picked by the judges.
"The first round is the fastest you've ever made a cake in your life," Caro said. "It's only two people. The baker and their assistant. We were basically rushing the whole time, down to the last second."
Caro and Becerra baked a pear and beer cake with bleu cheese Italian meringue buttercream, topped with candied walnuts and dried cranberries.
In the judging round, one team was eliminated -- but Caro and her assistant made it to the second round.
In the second round, contestants were asked to make a tasting cake for the judges. The cake had to be at least three feet tall, and had to tell a story.
"There are so many things the judges are looking for: great tasting cake, properly baked, and great tasting fillings," Caro said. "For the design, they are looking for clean fondant work, a cake that tells a story and good execution."
For the elaborate challenge, the bakers made an elaborate Lego world cake.
The bottom tier had a police station on one side with an officer chasing after a suspect, a police chief eating a donut, a Lego police dog and more.
The next tier up, a park scene unfolded, with construction workers holding Lego bricks to build a park.
On top of that, their cake had a hospital, with a nurse with a man on a stretcher as a doctor ran to help.
The cake was topped with a billboard, complete with real working lights.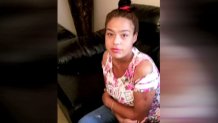 "On the very top is the Lego billboard with real working lights that says Hero Town which is what our cake is about - featuring every day heroes," Caro said.
In the judging process, another team was sent home.
It was now down to two teams: Kristina, from "Baked," up in Seattle, and Caro.
In the end, Kristina ended up winning.
"They announced that Kristina won and I was so happy for her," Caro said. "She's an amazing baker and a really nice person. I was proud to come in second place next to her."
She said the teams went out after to celebrate.
"I'm still proud and I loved the girls I competed with," she said.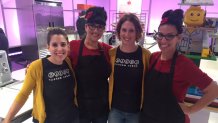 To learn more about Little Hunnys Cakery, click here.