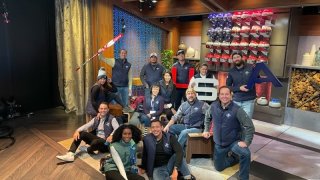 NBC 7's Steven Luke is headed to Beijing, China to bring us the latest updates from the #WinterOlympics. In this daily blog, Steven will document his journey east, as well as the sights and sounds from the host city, provide updates on local San Diego athletes and much more.🏆
📲 Follow Steven Luke on:
How to watch the Olympics:
📺 Cable TV
Viewing schedule can be found here.
📱 Streaming:
Streaming schedule can be found here. The NBC Sports app will also live stream 2,100+ hours of live event competition.
The Peacock app: offers live streaming coverage and full replays of every event on the service's premium tier. Click here for more information.
Beijing 2022 Winter Olympics
Watch all the action from the Beijing Olympics live on NBC