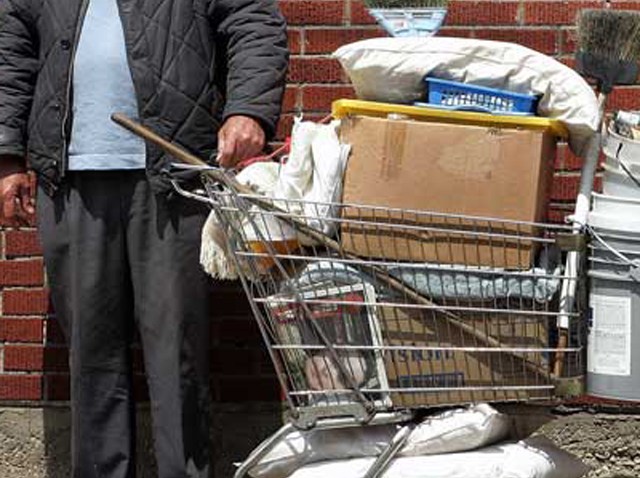 A 48-year-old man was found dead across the street from San Diego's winter shelter for the homeless Friday morning.
Medical examiner's deputies believe Steven Alan Andrade succumbed to natural causes. The 230-bunk shelter's occupants are both saddened -- and glad they made it inside last night.
Directly across Island Avenue from where Andrade's body lay under a thin blanket, the shelter was into its third day of operation.
While San Diego is envied for its balmy climate, especially in winter, temperatures had dropped below 50 in the Center City area overnight.
Police got a report of Andrade's death at 6:23 a.m.
"We went through three days of total chaos and mayhem standing in line to get in [Wednesday]," said shelter occupant William Yarling. "A lot of us became a little ungrateful, for what we had to do -- until we got a friendly reminder this morning of how hard life is on the streets, when we woke up to a dead man across the street."
Outrage mixed with gloom around the shelter when officers Tasered a man who shelter occupants said was praying over Andrade's body. Police said he repeatedly crossed crime scene tape, interfered with medical examiner's deputies and fought with officers who escorted him away.
Shelter operators say Andrade never tried to access the site's services. It's that way with a lot of the homeless. The shelter has rules against drugs, alcohol, sexual activity and disruptive behavior. For those who can obey them, it beats nights on the street.
"We've been out here for the last two weeks, talking to people, getting them ready to check in," said Bob McElroy, whose Alpha Project administers the shelter under contract with the city of San Diego.
"We were down here at midnight, and that concrete sidewalk is cold," McElroy recalled. "You get a lot of people out here who are sick. So, hopefully, we're going to save some lives."
Lives that for many homeless used to be so much better.
"Three years ago, I had a house,a bank account, two Mercedes-Benzes, toys, tools and antiques from three generations," said Keith Kelly Jennings II as he sat next to a pushcart filled with books and belongings on the corner of 16th street and and Island Avene.
"I trusted the wrong people," Jennings added, by way of explaining his impoverished circumstances. "Some of these people who drive by and look at us like we're trash don't realize how close they are to being right down here with us.