Local spirits maker Liberty Call Distilling will be one of the newest tenants at Barrio Logan's Mercado del Barrio, a mixed-use development in the heart of the neighborhood, when it opens in early 2019.
The new location at 1985 National Ave. will combine features of their current distillery in Spring Valley with a restaurant concept featuring menu items crafted by farm-to-table Chef Miguel Valdez, formerly executive chef of The Red Door.
"The Barrio Logan kitchen will be our tasting room, while our growing Spring Valley space will produce more product," said Liberty Call Distilling Founder Bill Rogers.
Rogers is the son of a United States Navy pilot and grew up on Coronado Island. His business partner Steve Grella is a U.S. Navy veteran.
On the menu will be what Rogers calls "California tapas," creations combined with Liberty Call Distilling own spirits like a signature Whiskey Burger and a Rum Pickled Strawberry Salad, just to name a few.
The Barrio Logan distillery-restaurant will fill a nearly 3,000 square foot space capable of seating 60 guests at high-top, communal-style tables both inside or on their 400-square-foot patio.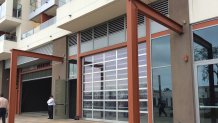 At the location, guests will be able to peek inside the distillery process through a glass partition while enjoying craft beverages created with Liberty Call's award-winning spirits.
Rogers is investing $1 million of the business' profits into the Barrio Logan concept and an expansion of their Spring Valley location, which will be 2,500 square feet once completed and better able to meet demand, according to a spokesperson for the distillery.
Liberty Call Distilling was founded in 2013 and found its niche specializing in small batch whiskey, bourbon, rum and gin.
San Diego's artisanal distilling scene is still a growing industry with just over a dozen businesses currently in the San Diego Distillers Guild. To put that into perspective, San Diego's Brewers Guild has grown to about 10 dozen breweries since its inception in two decades ago.
The 6.8-acre, $80 million Mercado del Barrio was completed in 2012 and is located east of downtown, at the corner of Cesar E. Chavez Parkway and Main Street.
Its retail portion is anchored by Northgate Gonzalez Market and includes several other existing stores, and restaurants, including Iron Fist, MishMash, Mariscos el Pulpo and Tocumbo's Ice Cream and Tortas.