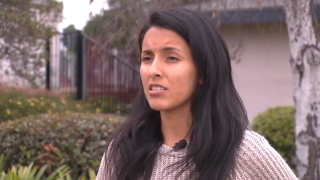 Lemon Grove City Councilwoman Liana LeBaron was arrested last Monday and charged with misdemeanor domestic battery.
LeBaron, 32, was served with an emergency protective order by the San Diego County Sheriff's Department during a City Council meeting the next day.
LeBaron has come under fire from her city colleagues in the past, most recently March 8 when the City Council met to discuss passing a resolution condemning alleged misconduct. Accusations against LeBaron included in a City Council report include:
Shouting over councilmembers and the Mayor during meetings.
Use of racial epithets.
"Making baseless accusations of fraud, embezzlement, and abuse aimed at her colleagues and City staff."
"... aggressively interrogating employees," and following employees around at City Hall.
Publicly shaming current and former staff.
"LeBaron seems to be oblivious to the professional damage and negative impact on staff morale her current and past actions have caused," the report said.
The city of Lemon Grove told NBC 7 they were aware of LeBaron's arrest, but offered no comment regarding the allegations against her.
"The City has been made aware of the recent arrest of Council Member Lebaron for alleged domestic violence.  The City has no comment regarding the specific allegations at issue at this time, but recognizes the severity and seriousness of domestic violence in general.  If you are a victim and need help, please reach out to the National Coalition against Domestic Violence at 1-800-799-SAFE (7233)." a statement form City Manager Lydia Romero said.
In a Facebook post, LeBaron said "The City Council, City Manager, City Attorney, City Clerk and Assistant City Manager are trying to silence me for doing the public's work."
LeBaron's post includes screenshots of a March 3 email from City Attorney Kristen Steinke telling LeBaron the City Council was going to seek a court order to block LeBaron's "continued unauthorized use of City Hall facilities," if she didn't stop voluntarily. In the letter, Steinke accuses LeBaron of "unauthorized, continued and near daily use of the conference room at City Hall as your personal office space, and continued disruption of staff while they conduct their daily work activities."
LeBaron called the accusations false, and provided detailed rebuttals to the accusations in a letter presented during the March 8 meeting.