The city of Lemon Grove received its first wave of applications for prospective medicinal marijuana dispensaries Monday.
Some applicants were so eager to file initial paperwork that, according to NBC 7 viewers, they attempted to camp outside of city planning department headquarters on Friday before being told to return at the start of business on Monday.
As of the close of business on Monday, three completed applications were submitted, according to Lemon Grove City Manager Lydia Romero.
Voters passed Measure V last November by just 90 votes, according to the Registrar of Voters certified election results, after shooting down two similar measures in 2012.
According to the text behind Measure V, these businesses will require a Conditional Use Permit and will be "limited to opening only in Heavy Commercial, Limited Commercial, General Commercial and Light Commercial Zones. Residential and Multi-Use."
Per the Measure V Regulations and Permit Procedures, dispensaries in Lemon Grove must be 1,000 feet from schools, licensed daycares, parks, other dispensaries, and alcohol and substance abuse centers. Hours of operation are limited to 8 a.m. to 8 p.m.
Below is a zoning map distinguishing permitted (blue) and prohibited (pink) areas in the city.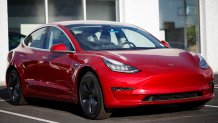 Measure V allows permitted dispensaries to "grow, process and dispense marijuana to a 'qualified patient' or 'primary caregiver' on the premises."
Per regulations and permit procedures, cultivation is limited to 25 percent of a dispensary's floor area, or 1,500 square feet, whichever is less. You can see all restrictions and standards for dispensaries in Lemon Grove, and other cities within the county, starting on page four.
Meanwhile in La Mesa, 17 total dispensary applications have been submitted since the city began accepting them in February.
According to City Manager Carol Dick, 15 dispensary applications, one cultivator application and one cultivator and manufacturing application are currently under review. Letters will go out to applicants in the next few weeks informing them of initial approval.
Dick says full approval for opening isn't expected for months.
To see a map of medical marijuana dispensaries, both illegally and legally operating in San Diego County, click here.