A national hospital safety review saw seven San Diego hospitals improve over the year, according to a newly released ranking by the Leapfrog Group.
Leapfrog Hospital Safety Grades are assigned to more than 2,600 hospitals across the nation, according to its website. It reviews them twice a year.
Grades are given out as A, B, C, D, or F.
Roughly a third of all hospitals graded received an A in the fall of 2018. Only one percent of its recorded hospitals were given an F.
UCSD Hillcrest, Sharp Memorial San Diego, and Scripps Memorial La Jolla were among some of the local hospitals that were given the highest score.
Scripps Mercy in Chula Vista and San Diego were among the few given a C.
See all grades from the last three years listed below.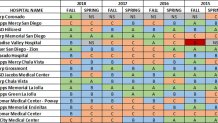 Specific items like good communication, hand washing, bed sores received, and problems with surgery are also separately rated.
To see these ratings, search for a hospital on the organization's website.
Leapfrog Hospital Safety Grades said it examines 28 different measures of hospital safety data and weighs each item by evidence, opportunity for improvement, and impact.
To learn more about the how grades are determined, go to its website.
California was ranked 23rd for number of hospitals given an A, with 32.4 percent. New Jersey was first with 56.7 percent and Nebraska rounded out the bottom of the list with 6.7 percent.