A South Bay teenager who was run over by an Immigration and Customs Enforcement agent four years ago is suing the federal government for damages, saying the accident changed his life forever.
"The last thing I remember before impact was pushing my friend out of the way," said 23-year-old Ali Mendoza. "My mind was coming in and out, it was such a blur."
It was July 12, 2014, around 9:00 p.m. when Mendoza was crossing D Street in National City with a friend. The teens said they were in the crosswalk, and figured they were safe.
ICE Agent Thomas Malandris was driving a government vehicle and according to a National City Police report, the car's sirens and emergency lights were not on.
In a pre-trial interview, on videotape, Malandris described what happened next.
"From the time I saw them, to braking, you are talking about a second or so." Malandris continued, "his body portion hit the passenger side windshield."
ICE Agent Involved in 2014 Accident, Injures Teen
According to the lawsuit, filed in 2015, Malandris moved Mendoza onto the curb, before paramedics arrived.
"He was in the middle of a roadway, I am going to help him get out of a roadway," said Malandris. "He (Mendoza) seemed to be fine. He told me he was good. He said his leg hurt. He was conscious, he was alert."
But, Mendoza's attorney said Malandris should have waited for help.
Mendoza's attorney believes Malandris tried to cover up a crime and was "tampering with the scene" by moving Mendoza's body before accident investigators arrived.
At the hospital, Mendoza had surgery for a leg fracture.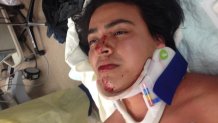 His parents by his side, wanting answers. Mendoza's father said, "No letters, no phone calls, no nothing. There have not been any apologies, from anybody."
In an email to an ICE supervisor, written the day after the accident, Maladris said police found Mendoza was "at fault for crossing the street in unsafe conditions while under the influence of a controlled substance."
To read that email, click here.
Mendoza did admit to smoking marijuana on the day of the crash. But, the police report actually found Agent Malandris, not Mendoza, was at fault.
More than four years after the crash, Mendoza's father says his son will never be the same. "When I talk to him it is like actually talking to a person that I didn't know."
Mendoza says as a result of the accident he suffers from frequent headaches, memory loss and has nerve damage in his hands.
"I don't think as like clearly as I used to, I used to be sharp as a tack."
That's why Mendoza's family filed a lawsuit, seeking payment from the government for medical costs, lost wages, and future earnings.
A spokesperson for ICE would not comment on the accident, citing pending litigation. No one from the U-S Attorney's office would comment either.
A trial date has been set for February 26, 2019.
There is a separate lawsuit against a National City Police Officer who responded on the night of the accident.
In that lawsuit, Mendoza claims his blood was illegally drawn under the direction of Officer Benjamin Peck at the hospital.
Peck's attorney told NBC7 Investigates he hopes to get that case dismissed.