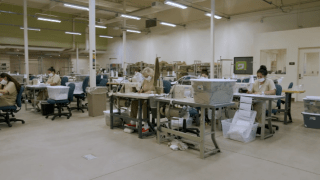 What to Know
Women in Las Colinas' sewing program have made thousands of masks that were distributed to the county's seven jails.
The participants practice proper social distancing and wear masks during production to be safe.
Upon completing the sewing program, the women receive a Certificate of Completion from Grossmont Adult School that lists all skills they've learned
To help fight the spread of COVID-19 in San Diego-area jails, inmates taking part in a sewing program at Las Colinas Detention and Reentry Facility have made more than 10,000 face masks for fellow detainee in recent weeks, authorities said.
The garment workers at the Santee-area women's lockup facility have been making the protective face coverings since last month, according to sheriff's officials. One team cuts and designs the fabric out of cotton and twill, a second group assembles the components, and the completed masks are then washed in hypoallergenic detergent before being packaged for delivery to the county's seven jails and several juvenile halls.
"I like it because we're helping the community and at least we're being helpful," Isaura Obeso, one of the women in the sewing program, said in a video posted by sheriffs. "At the end of the day, you feel like you're doing something good for someone and preventing all this or for someone not to get infected."
The sewing program consists of 40 participants, but 14 women were chosen to create the masks so the group can practice proper social distancing during production. They are paid 50 cents per day, the same rate other inmate workers are compensated for other services in custody, according to sheriffs.
"Participants say they're glad to give back and help during this health crisis," according to a sheriff's statement.
To keep safe during production, the participants have easy access to hand sanitizers, soaps, restrooms, sinks, bleach wipes and cleaning sprays, authorities said in a statement. Each individual is set up at a station within proper distance from one another and everyone in the jail, including employees, wears a face mask for protection.
The 14 participating inmates had prior sewing experience and have honed their skills as part of a jail job-training program in which they also have made inmate uniforms, bedding, recyclable bags and other things needed in area detention centers. The sewing program teaches its participants how to sew, take inventory, inspect finished products and manage projects so they can carry on those skills toward jobs after their release.
Upon completing the program, students earn a Certificate of Completion from Grossmont Adult School that lists all skills they've learned.
Copyright CNS - City News Service