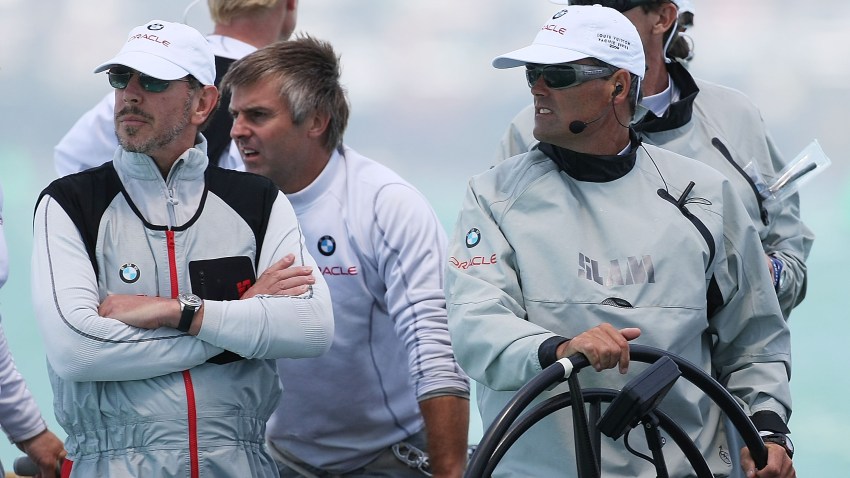 America's Cup challenger BMW Oracle Racing has unveiled what is believed to be the world's largest wing, which it will test as a replacement for a traditional soft-sail rig on its monster trimaran.
Larry Ellison, the Oracle Corp. founder and CEO owns the boat. The team is backed by San Francisco's Golden Gate Yacht Club. It had been testing its space age-looking trimaran in San Diego since last fall.
Complete with flaps, the new wing will tower nearly 190 feet above the deck when it's installed this week. It is longer than the wing of an Airbus 380, the world's largest passenger airliner.
The boat's skipper told the Associated Press, "It's an awesome piece of kit."
AP writer Bernie Wilson said the new wing will add another dimension to an already over-the-top America's Cup race which will now "feature two of the fastest, most extreme boats ever built for sailing's premier regatta."
The wing was unveiled five days after the trimaran's 200-foot carbon-fiber mast fell and broke in two during a sail on the Pacific Ocean.
The mast broke off during testing 30 miles off Point Loma near San Diego.
Eight crewmembers were aboard and were not hurt. The crew said weather was not a factor, but it was not immediately what caused the mast to fall. The carbon-fiber mast that failed cost an estimated $10 million and supported a main sail that's twice as big as a Boeing 747's wing.
The BMW Oracle Racing and its brand new wing will face defending champion Alinghi of Switzerland in a best-of-three showdown beginning Feb. 8 for the oldest trophy in international sports.
Copyright AP - Associated Press