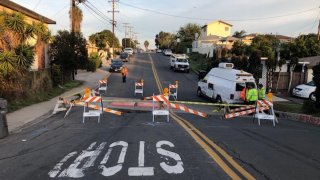 A portion of a street began to buckle in a residential National City neighborhood Wednesday night, forcing authorities to shut down the roadway for a day.
National City police closed down a portion of Rachael Avenue just south of Alleghany Street Wednesday night due to what was described by the city as a sinkhole.
The next morning, crews arrived to inspect what appeared to be a 10-foot stretch of the roadway beginning to sink into the ground. The buckling was creating a gap between two secure portions of the street.
Officials did not say what was believed to be the cause. Crews said the road would likely be closed all day.
No other information is available. Refresh this page for updates on this developing story.