Grinning from ear-to-ear, a player from the U.S. Men's Paralympic National Team lived out his dream Tuesday: training with soccer legend Landon Donovan.
Donovan, along with players from the San Diego Sockers and the U.S. Men's Paralympic National Team, gathered to train at the arena fields at the Magdalena Ecke Family YMCA in Encinitas. Donovan and the players are set to play in the Sockers' 2nd annual celebrity halftime game on March 12 at Valley View Casino Center.
As the players dribbled around the arena, it was hard to ignore the smiles on their faces, particularly of one young man, Paralympic National Team forward Mason Abbiate.
The 18-year-old San Diego native has lived his entire life with cerebral palsy. Meeting and dribbling with Donovan has been a lifelong dream.
"It was one of my dreams, and now it's checked off the bucket list," Abbiate told NBC 7.
The respect on the field was mutual.
As Donovan trained with Abbiate, he stopped to give the young player a pat on the back.
"He's played in a World Cup more recently than I have, so this is the star here, not me," Donovan said of Abbiate.
Abbiate said playing with the pro is a reminder that anything is possible, no matter the obstacles in one's path.
Abbiate was born 14 weeks premature – at only 26 weeks in 1998. He has survived numerous brain surgeries and procedures, defying the odds.
"Doctors walked into a room and said [to my family], 'Your son may never be able to walk or talk ever again,'" he told NBC 7.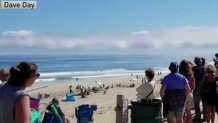 Today, he's one of 14 players on the U.S. Men's Paralympic National Team, all of whom have equally remarkable stories of living – and succeeding – with cerebral palsy or other traumatic brain injuries.
"Never give up," Abbiate said. "From where I came from – from where all of the other guys on this team came from – our stories are unbelievable, so just keep on doing it. Never give up."
Donovan said no matter their backgrounds, the men on the field practicing for the March 12 match were all brought together by one common goal: the love of the game.
"This is the beauty of soccer – you have an indoor soccer team, somebody who played outdoor soccer their whole life, somebody who played for the Paralympic team – and we all do it because we love this game," said Donovan. "It doesn't matter what abilities we have or what disabilities we have, we all do it because we love it."
Donovan admitted he hasn't played indoor soccer for about 20 years, but he's learning. He said he's impressed by the Sockers' skills.
"My expectations have been blown away. They're all good soccer players as a starting point, and then they understand how to play this game indoor, which is much different than outdoor," he said. "I think they're going to do well this weekend."
Donovan – the all-time U.S. Men's National Team (USMNT) leader in goals and assists, and Major League Soccer's (MLS) leader in regular season goals, assists and playoff goals – recently moved to San Diego.
He has joined the efforts by the FS Investors group looking to bring MLS to San Diego as part of the Mission Valley redevelopment plan now that the Chargers are gone. Donovan is playing a few different roles, including being the most recognizable face of the proposal.

"We're very excited about the opportunity to being a Major League Soccer team to San Diego," he told NBC 7. "My idea of a perfect San Diego is [that] every person who loves soccer should be part of it."
He said supporting the Sockers and local youth teams is part of that push to help soccer make its mark in San Diego.
"We want everybody else to join in with us and make this a reality for San Diego, so we can do something special here," he added.
In the past, Donovan has said he's a huge fan of the San Diego Sockers, and grew up watching the team – even more closely than Galaxy or DC United.
The Sockers were founded in 1978. The team has won 14 indoor championships across the MISL, PASL and MASL leagues. With 48 straight wins, the team also set a U.S. pro sports record for the longest winning streak.