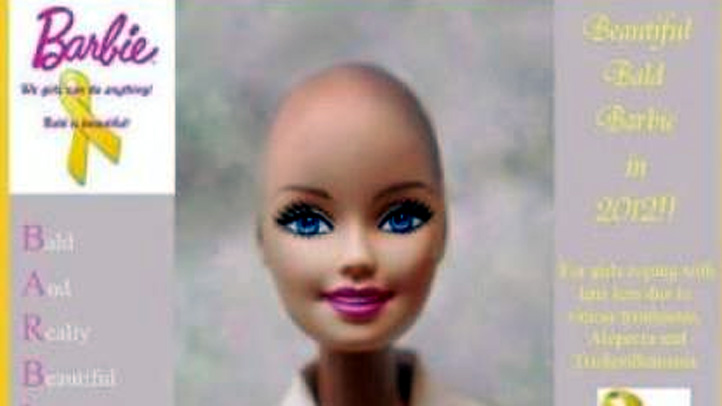 A mother in Lancaster, California, whose daughter has cancer, is asking Mattel to create a bald Barbie to help support her child and others with the disease.

The "Beautiful and Bald Barbie" Facebook page had 116,378 "Likes" as of Sunday morning. It is part of an effort by Rebecca Sypin, of Lancaster, and friend Jane Bingham, of New Jersey, to convince the company or another toymaker to create a bald version of a doll.

The page, which launched in late December, includes a message to visitors: "We would like to see a Beautiful and Bald Barbie made to help young girls who suffer from hair loss due to cancer treatments, Alopecia or Trichotillomania.
Also, for young girls who are having trouble coping with their mother's hair loss from chemo. Many children have some difficulty accepting their mother, sister, aunt, grandparent or friend going from a long haired to a bald."

Sypin's 12-year-old daughter lost her hair after chemotherapy treatments. Sypin, a 32-year-old special-education teacher's aide, said other children were not used to seeing a bald child and often asked questions.
Viewers of our sister station, NBCLA, gave an overwhelming response via social media and Sypin herself was among the first to post a comment on our Facebook page, posting, "I am that Lancaster mom and I hope it happens."
Many others supported the idea.
"Of course they should. Anything to help some child feel better about themselves," wrote Peggy Isbell.
Many agreed with Lori Gibson Kopanski.
"It's a great idea, especially if some of the funds go to support the fight against cancer. For the people who don't like it, just don't buy it!" she wrote.
There were also some commentors who didn't think Mattel should make a Bald Barbie.
"No, I don't think they should. That would open the door for all kinds of political agendas. Maybe she could just make a doll herself. Let us remember Barbie as she is," De Necie Johnson wrote.
What do you think? Share your thoughts with us on Twitter: @NBCSD // Facebook: NBCSD