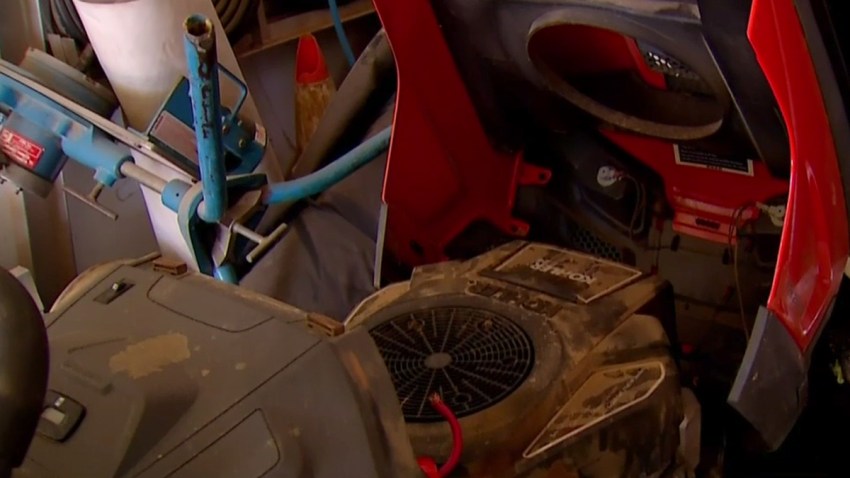 An important – and very expensive – piece of equipment stolen from a Lakeside softball team has been returned, but in very poor condition, according to the team president.
The equipment, a tractor used to rake and smooth the field for softball games, was reportedly stolen from a shed at Cactus County Park overnight on Friday by an unknown thief.
By Monday morning, Lakeside ASA Softball coach Todd Fields said the equipment had been anonymously returned. He said he found it sitting in the parking lot at Cactus County Park, badly damaged.
A message on the Lakeside ASA Softball website said the tractor had been vandalized and is "unfortunately not drivable at the moment."
Team president Josh Barnes told NBC 7 the tractor was returned in "an unforgivable state," which included lots of damage.

"The battery cables were cut, the battery was missing, the ignition was broken and there was an unknown substance, possibly water, in the gas tank," Barnes explained.

Barnes said team leaders took the Gator to Stotz Equipment in El Cajon for repairs.

In a pleasant turn of events for the team, Barnes said the repair shop agreed to donate all of the parts plus the labor to get the team's Gator up and running again.

Fields said the raking equipment, known as a "Gator," is valued at between $12,000 and $15,000.
When the coach realized it was missing over the weekend, parents spent all day Saturday searching the area near the park on Ashwood Street for the tractor. Deputies from the San Diego County Sheriff's Department helped in the search, too, but the vehicle was not immediately located.
In an interview on Saturday, Barnes told NBC 7 the theft was a huge loss for the team, especially since their season begins in less than two weeks.
"At this point, I don't know what we're going to do. Our opening day is in two weeks and we have a lot of field prep left. We're kind of just stuck at this point," Barnes said. "It is a sense of pride and it really hurts. It's taking away from the girls and the community of Lakeside. We're not going to be able to fix this, so Opening Day might be a little bit of an eyesore."
Now that the Gator is being repaired, Barnes said the team will be able to prep their field just in time for Opening Day.
Fields and Barnes said they do not know who stole the tractor or why.
Barnes said there have been copper thefts in the past at the privately owned field. It is unknown if those prior copper thefts are in any way related to this tractor incident.