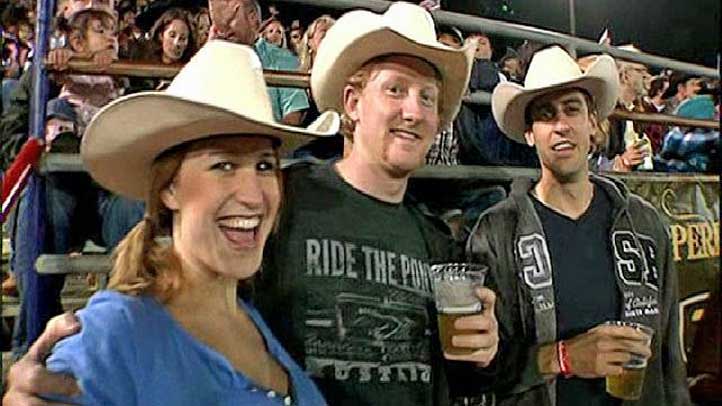 At the 48th Annual Lakeside Rodeo, fans donned their boots, spurs and of course, cowboy hats, to cheer on as competitors roped, rode and raced in the arena.
The Lakeside Rodeo has it all from boots, spurs and handlebar mustaches to rodeo queens, clowns and American flags. There was even an old western bathhouse with "women of ill repute" there to make you smile.
As for the events, bareback riding, tie down roping, barrel racing, steer wrestling, team roping and saddle bronc riding are all good but the event that most people came to see was the bull riding competition.
Bull riding rules the rodeo.
"Some guys jump motorcycles over 120-foot gaps, some guys crawl on 2,000 pound animals," said professional bull rider Jay Cusick.
"It's crazy pretty big adrenaline rush but there are a lot crazier things out there," said professional bull rider Wesley Silcox.

The event is no joke. In fact, it's downright dangerous that's why bull riders have a saying lots of gain and lots of pain.
Cusick said he has broken both his legs, his arm and his hand throughout his career.
Silcox said he has plates in his jaw and his wrist and said he's broken his orbital bone.

But professional bull rider Corey Mirer said it's all worth it if you love what you do.
"The next ride could be your best ride of your career or could be the last so you dang sure gotta love to do it," Mirer said.
Some of those who attended were old-time cowboys while others were new to rodeo.
Kerry Peterson of Del Mar said she and a friend decided to go to the annual event, "So we can say with conviction this is not our first rodeo."
Follow NBCSanDiego for the latest news, weather, and events: iPad App | iPhone App | Android App | Facebook | Twitter | Google+ | Instagram | RSS | Text Alerts | Email Alerts