Some concerned San Diego Democrats are calling for an investigation into one of their own: Labor leader Mickey Kasparian, who was named in two recent lawsuits.
Kasparian is President of United Food and Commercial Workers Union, Local 135 and President of the San Diego and Imperial Counties Labor Council, and a powerful man within the County and State Democratic party.
However, his involvement in two lawsuits is being questioned by some in his party. One woman alleges she was sexually harassed in the workplace. Another woman alleges she was unjustly fired. A third complaint filed later alleges retaliation.
Some Democrats sent a letter to the Executive Boards of the groups urging them to look into the allegations and to place Kasparian on administrative leave until the matter is resolved.
"Mickey Kasparian is a highly influential person in local and state politics," said Democrat Rachel Laing, one of more than 45 people who signed the letter. "We want to make sure all these groups. . .know what's going on with these allegations, that they are investigated and that they have a sense of whether there is any validity to them. If so, we should not be working with someone like this and if not, we will clear his name."
The letter also asks the County and State Democratic Party to consider whether, in light of the allegations, it is appropriate for Kasparian to be representing San Diego as a delegate to the Democratic State Central Committee.
The letter refers to President Donald Trump and states that "…it is more important than ever that we maintain moral clarity."
"If we want to have the credibility to discuss this and to fight anything that happens on the federal level we better have our own house in order.," Laing said. "That's what we're saying. We're not saying he did it, we're saying we need to know one way or another."
The Chair of the San Diego County Democratic Party, Jessica Hayes, said the Board takes the letter very seriously. In a statement, Hayes wrote, "In response to a challenge to Mr. Kasparian's membership on the Central Committee, we will follow the process outlined in our by-laws."
The Secretary-Treasurer of the Labor Council, Dale Kelly Bankhead, said in a statement she has faith in the court system.: "No internal labor council investigation could do a better job."
UFCW Local 135 sent a statement that reads in part: "It is profoundly disappointing that individuals, by signing on to a letter, would choose to ignore the facts, or turn their backs on our members. The statement later reads, "Lawsuits are not truth, especially when they are filed by those who have failed to do their jobs."
You can read the full letter from the UFCW Local 135 here.
They also pointed to a letter sent to one of the women who filed a lawsuit. That letter is from the union representing union employees, FAIR. It said that based on the facts, the grievance she filed against the Local 135 was dismissed.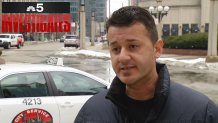 Lee Burdict, the former chief of staff for former Mayor Bob Filner, who was forced to resign for office over charges of sexual harassment, sent a letter of her own to the organizations urging them to investigate. "Do your duty and let the cards fall where they may."
Read the letter here.