Two La Jolla Playhouse-born productions took home a combined three Tony Awards in one of the show's most competitive years on Sunday, including an award for the Playhouse's Artistic Director.
Director Christopher Ashley, nominated for his direction of Playhouse-connected "Come From Away", took home the Tony in the competitive category.
"I want to start by thanking La Jolla Playhouse, my theatrical home," Ashley said during his acceptance speech. "The extraordinary David and Irene, our authors who have told this story with so much grace and heart."
Ashley said the win for "Come From Away" and the wins for Playhouse-bred "Indecent" draw attention to San Diego's theater scene.
"This extraordinary moment sheds a light on San Diego's vibrant arts and culture scene," Ashley said. "From our immensely talented pool of local artists, to our award-winning arts organizations, to the audiences that support and drive the development of new plays and musicals, there is no city like San Diego to create world-class theatre."

It was the only Tony Award for the heartfelt 9-11 musical, with book, music, and lyrics by David Hein and Irene Sankof. The musical received seven nominates, including Best Musical, Best Book, and Best Score. This year marks the most competitive year for musicals since the early 80s.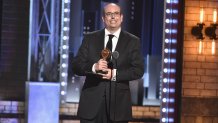 Ashley also thanked the people of Newfoundland and those who opened their homes to the passengers on diverted flights during 9/11.
"Most of all, I want to accept this on behalf of the people of Newfoundland and all of the first responders and their families in New York on 9/11; the people who gave their lives and the people who extended their hearts and their homes who were generous and kind in the worst of moments," Ashley said. "To all of you, thank you."
"Come From Away" had its world premiere at the Playhouse in 2015, where it won six San Diego Critics' Circle Awards. The show then went on to Seattle, DC, Toronto and opened at Broadway's Gerald Schoenfeld Theatre in March.

Ashley is currently directing the Broadway-bound world premiere of "Escape to Margaritaville" at the Playhouse.
The second Playhouse-connected piece, "Indecent", a new play by Paula Vogel, took home two of the three Tony Awards it was nominated for.
The play, co-produced with the Yale Repertory Theatre, played its world premiere at the Playhouse in 2015. It later opened for an Off-Broadway run at the Vineyard Theatre and in April, opened at Broadway's Cort Theatre.
Rebecca Taichman took home the award for Best Direction of a Play for "Indecent" and Christopher Akerlind took home the award for Best Lighting Design of a Play.
"Indecent" marks the La Jolla Playhouse's 28th production to transfer to Broadway.
Both pieces have been nominated for numerous Drama Desk Award, Outer Critics Circle Award, Drama League Award and Lucille Lortel Award nominations as well.