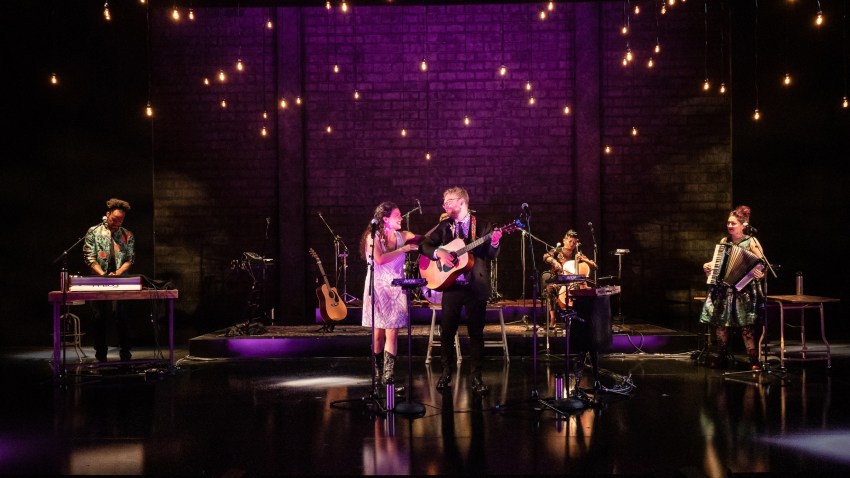 Eleven years ago, Abigail and Shaun Bengson met.
Three weeks later, the couple got married.
But those three weeks in between meeting and tying the knot, the pair told NBC 7 San Diego, was the start of something beautiful: a project that would later be titled "Hundred Days," a theatrical piece on the border between a live concert and musical experience.
The piece is based on the couple's real-life story of how they got together and fell in love. Because of past trauma in her life, Abigail said, getting close to anyone in a short period of time brought on an enormous amount of PTSD.
"We asked the question, 'well, what would we do, if we didn't very much time left together, if we did get the the terrible news, how would we handle it?'" Abigail said in a phone interview. "So at the time, we started writing music as a way to process those feelings and get closer and move through all the fear."
At first, the Bengsons thought it would just turn out to be a concert or a collection of songs.
Then, they dreamed bigger: a Broadway musical!
Then, the pair started to strip the concept back and they arrived at their present concept: "using the theatricality that we gathered and learned along the way, but in service to a humbler story that is hopefully more honest as well," Abigail said.
The more the piece evolved and the more collaborators got involved, the more the couple moved toward an honest and real portrayal of their feelings, fears and everything in between. The concept of 'Hundred Days,' however, has stayed the same, The Bengsons said.
"The most important theme of 'Hundred Days' is moving through fear in the name of love," Abigail said. "So letting love win in the battle between love and fear, something we all experience every day. And saying, 'yes the world is a terrifying place, yes we don't know how long we'll have with the ones we love, but I'm going to live anyway and I'm going to keep moving forward and let my heart be open and let my heart break as it will.'"
It's a show that forces both Abigail and Shaun to look at their life and what is terrifying them before they step on stage -- and then face it.
"To do the show, honestly, I really have to look squarely at what is terrifying me right now, and there's plenty to be afraid of, and say, 'okay, let's keep moving, let's love each other anyway, let's love the world anyway and see what happens,'" Abigail said.
"It's not easy, it's not easy, but it's the way I want to live," Abigail said.
"Hundred Days" runs at La Jolla Playhouse's Mandell Weiss Forum until oct. 21, 2018. You can buy tickets here.