A San Marcos cyber-security specialist who lured underage girls into his red convertible pleaded guilty Monday to kidnapping and other criminal charges.
Spicer Van Allen Conant, 46, pleaded guilty Monday to one felony charge of kidnapping along with a charge of contact with a minor with intent to commit a sexual offense and a charge of unlawful possession of an assault rifle.
He will be sentenced to eight years in prison during a hearing in January. As a result of the guilty plea, Conant will be required to register as a sex offender for life.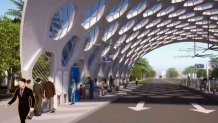 Conant's contact with women and young girls began in May 2016.
Escondido police said Conant contacted nine females. Of those, seven were minors.
In each incident, he would ask for directions and then offer the women and girls money to get into his car.
Two of the young women got into Conant's red convertible.
One of his potential victims, a 27-year-old woman, talked with NBC 7 after the incident. She said she was shaken after she was approached by Conant in a fast-food parking lot.
Totis Rodriguez said Conant "seemed like a normal guy" at first, but things turned.
"At the beginning, I thought it was okay. He was very vulnerable, nice – needs help. But, then his tone of voice changed and he wouldn't let me walk through where I needed to walk through," she said.
Thinking fast, Rodriguez grabbed her phone from her back pocket and snapped two photos of Conant. She memorized his license plate.
One day later, Conant was arrested in Escondido.
Investigators had Conant under surveillance when he drove to Escondido and approached a group of five young women, most of them minors. Again, he asked for directions.
One woman, an 18-year-old, got into his car. At that point, fearing for the young woman's safety, police officers pulled Conant over on 13th Avenue and Escondido Boulevard and arrested him on suspicion of attempted kidnapping.
While searching Conant's car, police found an illegal assault-style rifle and 1,000 rounds of ammunition in the trunk.
He is facing up to 21 years in prison on convicted on all charges.
The sentencing hearing is set for Jan. 16 at the Vista courthouse.