A U.S. Navy petty officer injured when his truck was pushed off a San Diego highway overpass and fell 50 feet to the ground says he has experienced pain he wouldn't even wish on the man who hit him and then drove off.
Years in the military and seven deployments couldn't prepare Kenneth Freudenvoll for the devastating accident along the off-ramp from Interstate 8 in Mission Valley on September 21.
"When I went over, I literally thought that was it. I thought, 'I'm done - this is where my life ends. I'm never going to see my family again,'" Freudenvoll told NBC 7.
Freudenvoll's truck was struck by a Ford Excursion driven by Jose Uribe, 20. The impact caused Freudenvoll to lose control, go over the guardrail and fall more than 50 feet to the parking lot below.
Uribe is accused of leaving the scene of the crash after Freudenvoll's truck went over the guardrail.
"I wonder how he feels knowing he's completely changed my life from how it was to now," Freudenvoll said.
Freudenvoll is employed as an E6, First Class Petty Officer in the U.S. Navy with a young son Jacob Tyler and a wife who is four months pregnant.
Jacob Tyler used stickers to decorate Freudenvoll's brace which he called "Daddy's turtle shell."
While his command has been very supportive as he recovers, Freudenvoll was still concerned about the future of his military career.
The concern for his family's future brought the Navy boat tech to tears.
The fall obliterated a portion of Freudenvoll's lower spine, crushing his second and fourth vertebrae.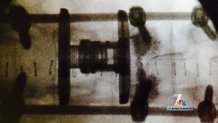 A bone shard in his spine caused him to lose feelings in his legs. Once that was removed, he regained some sensation.
"It was almost like getting to hold my son for the first time. It was an awesome feeling," he said.
He has had two surgeries so far. Metal rods now hold it together as it heals. He said there are months of therapy ahead and he has been told there is a good chance he will walk again with some assistance.
On Monday, he was grateful to spend the afternoon outside the hospital for the first time since the crash.
Freudenvoll believes the Dave and Busters building helped him survive the fall. He said if his truck had not hit the building and leveled off before hitting the ground, he would have hit the concrete nose first.
He's also very pleased with his choice of vehicle. "I'll attest to anyone Ford trucks are built "Ford tough" for sure," he said.
He said the manager from Dave and Busters sat with him while he waited for emergency crews and even called his wife.
Witnesses reported seeing Uribe's vehicles driving erratically on the ramp moments before the accident.
He has pleaded not guilty to hit-and-run charges. Prosecutors claim Uribe left the scene because he was driving without a license.
He is being held without bail because he's on probation related to a false imprisonment charge and concealing evidence in a 2012 rape case.