A San Diego-area high school student is on national television, trying to realize her dream of being a star.
Chula Vista native Katriz Trinidad performed Monday on NBC's "The Voice."
She sang Stevie Wonder's "Do I Do" with Blessing Offor in the show's Battle Round. A little nerve-wracking, she admits, but that paled in comparison to the moment she first walked on stage for her blind audition.
"When they switched my water bottle for my mic and they slowly opened the door, all the nerves started to rush into me," she said.
She took a deep breath and launched into the song "At Last." She chose the song in honor of her uncle who taught her the song before he passed away.
Trinidad has come a long way since she started taking vocal lessons at age five.
The 15-year-old sophomore at Otay Ranch High School is used to going for runs, hanging out or getting her nails done around the neighborhood south of San Diego.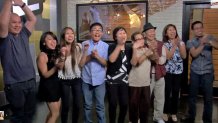 However, singing is her passion. She performed in children's choir at her church, started competing at age 8 and is often invited to sing at local Filipino events and parties, she said.
When she learned she was going to get a chance to land on a team with "The Voice" she initially had hoped to get Adam Levine as a coach.
However, the Maroon 5 lead signer didn't turn his chair around after her song.
So when she was faced with potential coaches Gwen Stefani, Blake Shelton or Pharrell Williams, she chose Williams because she felt a connection with him.
"He's so humble. He's such an amazing songwriter, producer," she said. "I am just excited to see what he has on the plate for me."
Ultimately, Trinidad said she hopes to learn more about herself as an artist through the singing competition.
See her official "The Voice" photo gallery here.