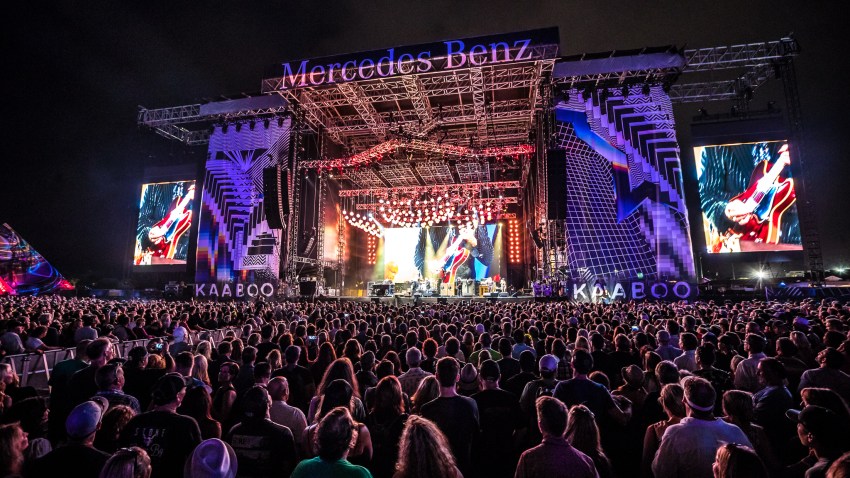 Now that all three-day passes for 2018 Kaaboo Del Mar are officially sold out, here's some good news for those that might've waited too long to snag weekend tickets: The annual San Diego "mixperience" has partnered with Stingray Qello to exclusively livestream more than 30 performing artists' sets throughout the upcoming Sept. 14-16 festival.
While a small number of single-day, general admission passes for Friday, Sept. 14, are still currently available for purchase (at the time of this article's publication), all three-day passes and Saturday/Sunday individual tickets are already gone.
Kaaboo organizers said Wednesday morning that they are "on track to sell out of all passes for the first time in the event's four-year history." So this morning's surprise livestream announcement should delight couch-surfers and the ticketless alike.
"As the exclusive music streaming partner of Kaaboo Del Mar 2018 ... Stingray Qello will stream a selection of sets from the event's three music stages," a Kaaboo press release stated. "Performances will be streamed in real-time all weekend and can be found on all available devices, including the Stingray Qello mobile app, web player, Apple TV, Amazon Fire TV, Roku and more devices."
Hopeful viewers will need to create a Stingray Qello account (or sign in to an existing account) and RSVP before Sept. 14 to the Kaaboo livestream at qello.com/kaaboo for updates.
While there has been no official announcement about which artists specifically will be streamed (check out the festival's daily lineup schedule here), Qello's Kaaboo page currently states: "Be sure to tune in to see live concerts from Imagine Dragons, Robert Plant & the Sensational Space Shifters, Katy Perry, Incubus, Blondie, Billy Idol, Earth, Wind & Fire, and many more." So, it'd be safe to assume at least those sets will be featured.
For more information on Kaaboo, head to kaaboodelmar.com.