A San Diego judge declared a mistrial Tuesday in the case of a man accused of driving drunk and causing a crash that badly injured a 6-year-old boy coming home from Disneyland.
Constantino Banda, 38, faced charges of driving under the influence, driving without a license and felony hit and run.
According to police, the 6-year-old boy, Lennox Lake, and his family were returning from a trip to Disneyland when Banda collided with their vehicle at Camino De La Plaza and Dairy Mart Road on May 6.
Lennox, strapped in a car seat, suffered serious injuries including a fractured skull. He has since been released from the hospital and is home recovering.
Jurors deadlocked on the first three counts; they found him guilty of driving without a license, battery, and vandalism. The judge declared a mistrial shortly after.
"When I heard that it was leaning towards a guilty verdict, that there were eight people who voted guilty and four who were not-guilty that was really hard for some reason. It just felt like we were so close," said Lennox's mother, Ingrid after the ruling.
Lennox's parents and Banda will be back in court Sept. 18 to find out what happens next. It will be decided then if the case will go to a retrial; or if Banda will be sentenced for the three charges of which he was convicted.
Banda had previously been deported 15 times -- the most recent time in January of this year, according to U.S. Customs and Border Protection.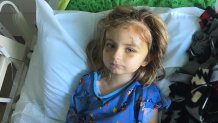 Police said Banda left the scene but was taken into custody a short time later by CBP officials. He and his passenger were determined to be in the country illegally.
"I just hope the justice system does what it's supposed to do and things are handled properly," said Benjamin, Lennox's father.

Banda illegally entered the U.S. a number of times for more than 10 years and was deported 15 times, CBP said.
NBC 7 spoke to Jacob Sapochnick, an immigration lawyer, who said although that number of deportations is highly unusual, reentry into the U.S. after being deported is common.
"People know exactly where to cross, when to cross, what time to cross, how to do all that," Sapochnick said.
Last year, more than 23,000 people were deported from San Diego.