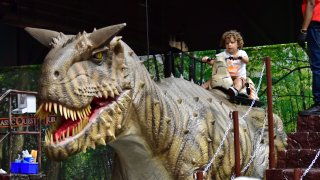 They're baaaaaaack.
Animatronic dinosaurs will once again stomp the grounds of the Del Mar Fairgrounds early next year as part of the Jurassic Quest experience's return to San Diego County.
More than 100 animatronic dinosaurs will be on display at the indoor experience, which will also feature dinosaur-themed rides, shows and interactive activities for all little scientists and artists alike. A toddler-friendly soft play area will also be available to entertain younger visitors.
The family-friendly event even boasts a moving, life-size, 50-foot-long megalodon replica to captivate those fascinated by the prehistoric creature. The interactive experience displays the dinosaurs in realistic settings and allows visitors to see them move and roar.
To make the exhibit as realistic as possible, the Jurassic Quest worked with paleontologists to make sure their dinosaurs accurately reflect what they looked like and how they moved.
The event's return comes after two pop-ups in 2020 that were offered as drive-thru experiences.
Jurassic Quest will be back at the Del Mar Fairgrounds from Jan. 21 to 23. Tickets are now available online and begin at $19. Visitors under 2-years-old can enter for free.