The brother of a retired United States Army captain who vanished last weekend in San Diego said he sees the "red flags" in his sister's case, and fears a grim outcome.
Jon Jacobson, who lives in North Dakota, flew to San Diego this week to search for his younger sister, retired Army Capt. Julia Jacobson, 37.
Julia was last heard from on Sept. 2, at around 9:30 p.m., when she sent a text message to a friend saying she was traveling from Big Bear, California, to Palm Springs, California, with another friend, according to investigators with the San Diego Police Department (SDPD). Julia's actual location when that message was sent is unknown.
In person, Julia was last seen in her company car at the corporate offices of 7-Eleven on Aero Drive in Kearny Mesa. She works in corporate real estate.
On Thursday, investigators found Julia's company car abandoned on Monroe Avenue in University Heights, east of Texas Street, about a half-mile away from her home. Julia's family told NBC 7 the car was found with its windows rolled down, at different levels, and the keys still in the ignition. Julia's black handbag was found inside, unzipped and with hardly anything in it.
One week later, Julia remains missing as her family, including Jon, grow more concerned by the second. She was with her dog, a wheaten terrier named Boogie, when she vanished.
Jon, who has worked as a private investigator in criminal cases for the past 20 years, said he can't help but fear the worst in his sister's case. Over the decades, he has worked on nearly 60 homicide cases.
"As an investigator, I know the statistics – I know the game," Jon told NBC 7. "I know how, most of the time, this story ends. I can see all the red flags."
Jon said it is extremely out of character for Julia to abruptly lose contact with her family – especially their nearly 80-year-old father, whom she calls every single day.
Those daily calls to her dad stopped the day before she vanished.
"I know how Julia's personality is; she's very much a military officer. She's very regimented, very detailed. She follows the same schedule every day," Jon explained.
"Julie's definitely not a free spirit, so to speak. She's very much a military officer. She doesn't wear the uniform anymore, but she still has the personality [of a military officer]," he added.
Jon said he last spoke with Julia about two weeks ago, when she called to get his advice on a new job she had been offered in San Antonio, Texas. Julia had decided to accept the position and was thrilled to be moving there, where her best friend from childhood lives.
Jon said his sister was preparing for her big move and excited for a fresh start. He said she had recently been through a bitter divorce.
Earlier this week, Jon's other sister called to tell him Julia was missing. At first, he thought maybe she had taken a few days off for the Labor Day weekend and would soon return.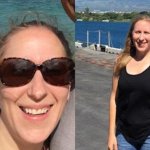 But, as the hours and days passed, there was no word from Julia.
Jon said his father, who has come to expect that daily phone call from his daughter, is taking her disappearance especially hard. Julia's mother died in February, and she has been a big pillar of support for her father since then.
Again, Jon said it's strange for his sister to change her daily routine in any way and leave without telling anyone.
Since the investigation is ongoing, Jon said the family has heard few details from police.
At this point, Jon has been told by police that Julia's ex-husband met up with her on the morning of Sept. 2. By 8 p.m. that day, she was in Ontario, California, about 120 miles north of San Diego County.
"And we don't know what else has happened," he said.
SDPD Lt. Mike Holden said investigators were able to confirm Julia was in Ontario on the night of Sept. 2 through a surveillance video. Holden said Julia was with her dog at the time. The SDPD is working with the Ontario Police Department on that part of the case.
Holden said detectives have spoken with Julia's ex-husband; he has been cooperative. At this point, he is not suspected by SDPD in her disappearance.
On Saturday, Julia's loved ones, Jon and members of the community gathered at Garfield Elementary School on Oregon Street to search for Julia. Volunteers canvassed neighborhoods around her Idaho Street home, posting missing person flyers.
Jon said he's hopeful that, soon, his family will have answers. For now, he knows one thing: his sister is a fighter.
"I know she's incredibly strong. She's a Bosnian War veteran, she's an Iraqi War veteran. She's the classic strong, independent woman," he said. "She's a very powerful woman, and I know she wouldn't go down without a fight, so to speak."
Jacobson is described as 5-foot-7 and about 150 pounds. She has a tattoo on her hip of a crab holding a flower. There is no information on what she was wearing when she went missing.
Anyone with information on Julia's whereabouts can contact the SDPD's Missing Persons Unit at (619) 619-531-2277 or SDPD's Communications Division at (619) 531-2000, and reference case #17-034427.