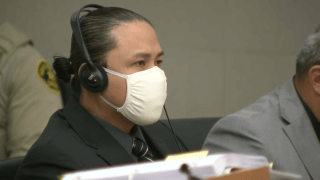 What to Know
May "Maya" Millete, a Chula Vista mother of three, was last seen alive on Jan. 7, 2021
In October 2021, police arrested her husband, Larry Millete on a first-degree murder charge
No body has ever been recovered
After an unusually long preliminary hearing for a man accused of killing his wife, May "Maya" Millete, in 2021, a judge ruled Wednesday that there is enough evidence for Larry Millete to be tried on one count of murder.
The decision came exactly two weeks after the start of the preliminary hearing to determine whether the San Diego County District Attorney's Office has shown probable cause — despite never finding the body of the missing Chula Vista mother of three — for a jury to determine whether her husband was responsible for her death.
Larry also faces one count of possession of an assault weapon when his trial begins on Sept. 14. He has pleaded not guilty to all charges.
Prosecutors spent weeks presenting evidence they say shows Larry's mental state amid his deteriorating relationship with Maya in the days before he allegedly snapped, including a video recording taken by Maya in the weeks before her disappearance, and surveillance video of the home in the days after. Larry appeared to be hyper-focused on a possible affair between his wife and a co-worker, prosecutors alleged.
Prosecutors presented phone call and text records that shows Larry's obsession with the affair, according to prosecutors. They say their evidence showed Maya went home on Jan. 7 and never left. Her cell phone disconnected days later, with its last location being their shared home.
What they didn't present was physical evidence of a slaying, like a body, a murder weapon or blood evidence.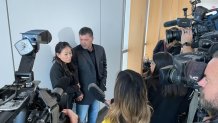 In the prosecution's final argument that Larry should be bound over for trial, deputy district attorney Christy Bowles acknowledged that the evidence against him is mostly circumstantial but cited the famous Charles Manson case as a precedent for how a murder trial can proceed based solely on circumstantial evidence.
Bowles, reading from 1977's People v. Manson, said, "'the fact that a murderer may successfully dispose of the body of the victim does not entitle him to avoid prosecution. This is one form of success for which society has no reward. Production of the body is not a condition precedent to the prosecution for murder.'"
The fact that Maya's body was never found is actually circumstantial evidence that death was caused by criminal means because it is highly unlikely that a person suffering a natural death would dispose of her own body, Bowles said, citing the document.
Larry's defense team, meanwhile, contends that without Maya's body and without evidence of a crime at the Millete home or elsewhere, there is little to prove Larry committed murder.
Defense attorney Bonita Martinez said in her final argument that the mystery surrounding Maya's disappearance could mean she is still alive.
During the preliminary hearing, the defense argued that the alleged affair could have prompted Maya to disappear. Martinez said on Wednesday during closing arguments that when Larry found out about the affair, he didn't react with aggression but instead "took her back" and that there was no evidence that Larry would harm his wife.
The judge ultimately agreed with the prosecution that it was unlikely that Maya left home willingly and without contacting her family, and said there was probable cause to bind Larry over for trial.
The Case Against Larry Millete
Maya was last seen in the couple's home on Paseo Los Gatos in Chula Vista at around 5 p.m. home on Jan. 7, 2021. Her disappearance occurred two days before the family was set to travel on a planned trip to Big Bear for her daughter's birthday. Two days later, Maya's sister, Maricris Drouaillet, called Chula Vista police to report that her 39-year-old sister was missing. Maya's car was still at her home but phone calls went straight to her voicemail after her disappearance.
Since then, the residence was visited by police on multiple occasions, dozens of search parties have been held to locate Maya, and, in October 2021, Larry was arrested and charged with murder in the first degree as well as a weapons charge connected to a gun found during one of the searches.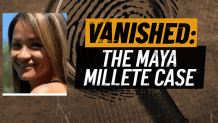 Since his arrest, Larry has had an enormous amount of time to contemplate the case being made against him by the office of San Diego County District Attorney Summer Stephan and the Chula Vista Police Department.
His case was originally set to be heard in the South Bay courthouse but moved north along with Moring, who was transferred to the larger downtown courthouse and who has presided over all of the status conferences and other hearings for the case during the past year. NBC 7 will stream live coverage every day of the hearing, which is expected to last two to three weeks, according to San Diego Superior Court spokeswoman Emily Cox.
In California felony cases, a preliminary hearing is held to review the evidence and listen to witnesses, culminating in a judge ruling whether the state has probable cause to try the defendant.
The Maya Millete Case: This is an entry in NBC 7's live blog coverage of the Larry Millete Hearing. To read past entries, CLICK HERE