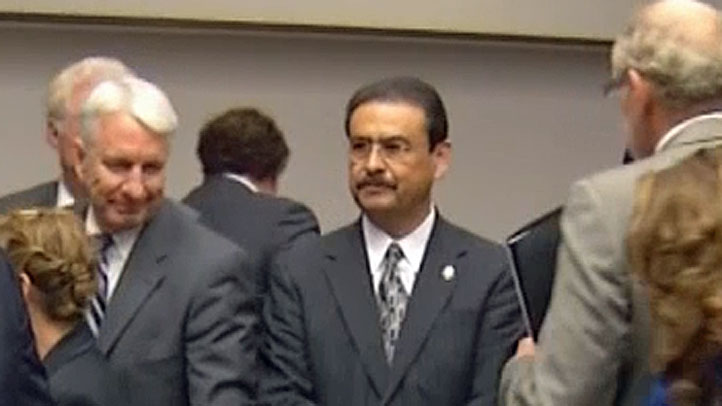 A San Diego Superior Court judge shot down a motion filed on behalf of the San Ysidro school district requesting a protective order on materials and documents from a deposition in an $18 million lawsuit.
Judge Steven Denton ruled Thursday morning that the district was seeking to seal documents related to discovery materials that are not currently records of the court.
"Sealing only pertains to records of the court," Denton explained to the district's legal counsel Arthur Palkowitz. "I am not authorized to issue an order preventing counsel from discussing the case with anyone they want."
In a motion filed yesterday, Palkowitz asked the court to seal a transcript and a video from a deposition taken April 17. The video features former San Ysidro Superintendent Manuel Paul invoking his constitutional right against self-incrimination (or "pleading the fifth") and declining to answer any questions.
In the approximately 26 minute video, the former superintendent, who is facing criminal charges, answered the same way 41 times:
"On the advice of my attorney, I assert my Fifth Amendment privilege and respectfully decline to answer."
Palkowitz mentioned in the courtroom Thursday a concern about Paul's constitutional rights, but didn't specify which rights were being impacted by a public review of the documents. Judge Denton raised questions about why the district's taxpayer-funded attorney was in court arguing on behalf of the constitutional rights of a former party to the lawsuit and a former superintendent of the district.
"Right now, his status in this case is as a dismissed party and he's being represented by the same counsel as is representing the district," the judge said.
In court papers, Palkowitz wrote that the deposition material "contains sensitive information that should not be openly disseminated to the public by plaintiff's to gain an advantage in litigation."
The lawsuit stems from the district's cancellation of a services contract with Eco Business Alliance to install solar power systems at district campuses. Because no solar panels were ever installed, no district funds were ever spent on the endeavor.
In a prior deposition, Paul said under oath that he accepted $2,500 in cash from a different, unrelated contractor in the parking lot of a Chula Vista steak house. He said the money was for campaign signs for a San Ysidro board member.
That admission has become the subject of a federal investigation. Paul was also among 15 South County school officials and contractors who have pleaded "not guilty" on corruption charges. He is facing charges of perjury and accepting gifts over the legal limit.
Paul has declined to comment on the court proceedings and lawsuit, but a person who has worked with the former superintendent for 25 years believes Paul will eventually be absolved of wrong-doing.
Chairman of the San Ysidro Planning Group Michael Freedman has this to say about Paul:
"With regard to the allegations: I, personally, believe that Mr. Paul is a person of high moral character, proven by his 38 years of service in the San Ysidro School District and in the community of San Ysidro," Freedman wrote via email. "In my opinion, he will be absolved of all the counts. I do not believe there has been any wrong-doing on his part. Taking custody of a political donation and volunteering to use it to have yard signs printed isn't a crime. It might not be smart, but that doesn't rise to the level of criminal intent."