The shooting death of a man in the upscale, quiet community of Olivenhain Thursday may have been motivated by an ongoing feud over trimming trees according to one resident.
John Upton, 56, of Encinitas was shot and killed outside his home on Lone Jack Road around 9:40 a.m., according to homicide investigators with the San Diego County Sheriff's Department.
According to several accounts, Upton was a nationally-known humanitarian who had worked to rescue Romanian orphans.
Deputies took Upton's neighbor Michael Vilkin, 61, into custody and charged him with murder.
A local television station aired a jailhouse interview with Vilkin Friday in which he claimed the shooting was self defense.
"It was self defense. I did not go to him threatening and he pulled a gun at me," Vilkin told KGTV. "I did not go to him. I stayed away on my property."
Lt. James Bolwerk said it appears two men were involved in a domestic dispute, but he would not clarify if the men were related or at which exact residence the incident occurred.
A man who identified himself as Michael Upton said his brother was the victim in the shooting and he contradicted the theory that the shooting was connected to a fight between neighbors.
Michael Upton believes the suspect hid the gun from sight or his brother would never have gotten near him.
"My brother was a smart guy, why would he get into an argument with a guy with a gun," Upton told NBC 7 San Diego.
Upton's next door neighbor, who has lived on the property for 10 years, spoke with NBC 7 San Diego but asked not to be identified. He said the suspect and victim in the shooting had argued over tree trimming in the past.
Upton was a tenant at 2916 Lone Jack according to the neighbor.
On the day of the shooting, Vilkin appeared to be trimming trees on property that runs from the end of Upton's driveway to an empty lot on the other side of Upton's rental home, the neighbor told NBC 7.
Friday morning, a shovel, gloves, a ladder and a saw were still on the front yard near the scene of the shooting.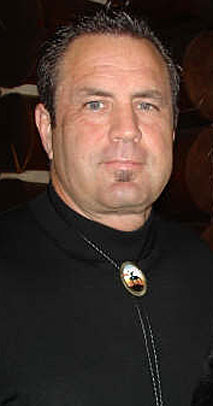 Detectives said they were vetting information for a variety of sources in order to piece together the events and motive for the shooting.
Investigators believe there are no outstanding suspects.
John Upton was described by one woman at the crime scene as a wonderful person who rescued thousands of children from Romania. The woman identified herself only as a spiritual adviser.
Michael Upton confirmed his brother's work with the orphans of Romania as reported by ABC's "20/20" and the Los Angeles Times in 1990.
John Upton and his girlfriend had recently bought a ranch and were planning to move Friday, according to the victim's brother.
He also said their mother died early Thursday morning after battling cancer.
Officials said anyone with information about the incident is asked to call the homicide unit at 858-974-2321 or Crime Stoppers at 888-580-8477.