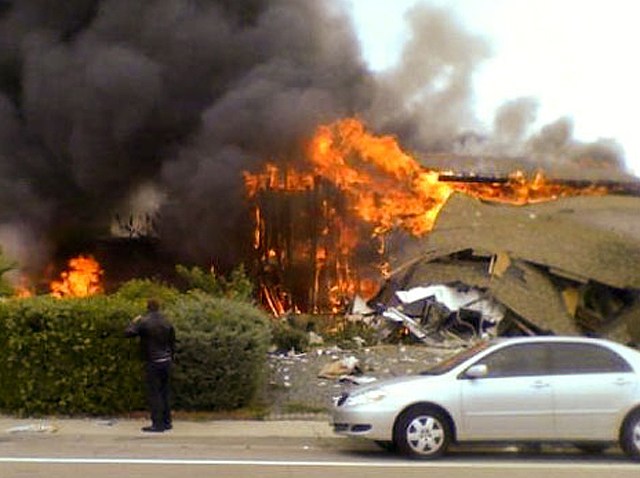 Two years ago, a military jet fell out of the sky and killed a family in University City.

Two houses were destroyed, three others damaged and, worst of all, one man lost four family members when the FA-18-D Hornet headed to Marine Corps Air Station Miramar crashed after its engine died.
Young Mi Yoon, 36; her daughters, Grace, 15 months, and Rachel, 2 months; and her mother, Suk Im Kim, 60, were killed. Kim was visiting from South Korea to help her daughter move across town and adjust to the arrival of her second child.
Military documents show that the Navy lieutenant who was piloting the jet was told to land at Miramar, bypassing NAS North Island's approach over water. Lt. Dan Neubauer was on a training flight from the aircraft carrier USS Abraham Lincoln when he was forced to shut down one engine because of mechanical trouble. The hobbled F/A-18D Hornet was told to bypass a Coronado's coastal Navy base that offered an approach over water and to instead fly inland over San Diego to Marine Corps Air Station Miramar.
Echoes from the crash are still being felt. Last month, military officials said that a new high-tech, high-priced fighter jet may soon be flying over MCAS Miramar. The military wants to base the new F-35 fighter jet at Miramar. The so-called Joint Strike Fighter would replace the aging F/A 18 Hornet.

Airfield operations at Miramar would decrease by roughly 17 percent, officials said, and fewer nearby residents would be affected by jet noise.

Still, opponents want the F-35s based somewhere else, arguing that the aircraft are a safety risk to heavily populated nearby neighborhoods and will still be way too loud. Critics cited the 2008 crash that killed Don Yoon's family.

The jet was heading to MCAS Miramar when its engines died. In March of 2009, a Marine investigation determined that the pilot should have landed at NAS North Island.

Yoon is suing the U.S. government and Boeing, which makes the Hornet, for negligence.
Copyright AP - Associated Press