The family of Colorado shooting suspect James Holmes sent a representative to address the members of the media that have surrounded their Rancho Penasquitos home since the shooting in Aurora, Colorado four days ago.
San Diego attorney Lisa J. Damiani read a statement from Holmes' mother Arlene clarifying what happened in the early morning hours Friday when she received a call from ABC News informing her of her son's arrest in the deadly shooting at a multi-plex theater.
When asked if the family stands by James Holmes, Damiani responded, "Yes they do, he's their son."
Get more coverage in our special section "The Dark Knight" Massacre
James Holmes appeared in court for the first time since his arrest in Friday's Aurora, Colorado movie massacre that left 12 dead and 58 wounded.
Holmes, a Westview High School graduate, attended UC Riverside where he graduated a BS in neuroscience in 2010. He then went to Colorado where he was pursuing his graduate degree up until a month ago.

While in San Diego, James Holmes lived with his parents Robert and Arlene Holmes on Sparren Avenue in Rancho Penasquitos.
Arlene Holmes, a registered nurse, works with Tri-City in Oceanside. The defendant's father, Robert Holmes, is a software engineer who lists his employer as Fair Isaac in the Carmel Valley area.
His sister Chris Holmes was spotted leaving the family's home on Friday under police protection. Neighbors say she also attended Westview High School like her older brother.
James Holmes appeared in court for the first time Monday at a hearing that lasted no more than 12 minutes. Watch Raw Video
Neighbors of the Holmes family who watched the court appearance said it was somewhat shocking and eerie in a sense especially since the killing-spree suspect grew up so close to where they live.
"I think he just kind of sat there, kind of stoic, he didn't have much expression on his face," said Ed States.
His wife Carol said, "Our neighborhood is very quiet, so we were surprised it happened here."
On Monday, Arlene Holmes wanted to explain her comments made to ABC News early Friday. Damiani read the following statement: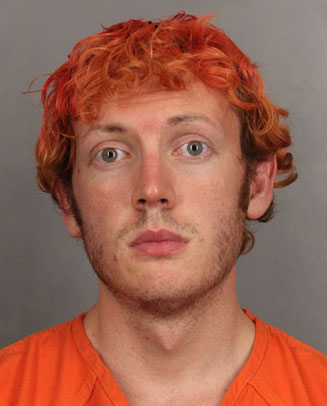 "I was awakened by a call from a reporter from ABC Media on July 20 about 5:45 a.m. I did not know anything about a shooting in Aurora at that time. He asked if I was Arlene Holmes and if my son was James Holmes who lives in Aurora, Colorado. I answered 'Yes, you have the right person.' I was referring to myself. I asked him to tell me why he was calling and he told me about a shooting in Aurora. He asked for a comment. I told him I could not comment because I did not know if the person he was talking about was my son and I would need to find out."
Damiani said the family wanted to reiterate their condolences for the victims in the shooting. No other details were divulged.
"The family has elected not to discuss James and their relationship with James at this time," Damiani said.
The family's spokesperson said that she is worried for the family's safety and she was happy to see the support the family has gotten from their church.
Holmes (seen here in his booking photo) is being held without bond and will be formally charged on Monday, July 30.
Follow NBCSanDiego for the latest news, weather, and events: iPad App | iPhone App | Android App | Facebook | Twitter | Google+ | Instagram | RSS | Text Alerts | Email Alerts