A recorded phone call between the defendant and Jahi Turner's mother was entered into evidence Wednesday as the San Diego County District Attorney's Office continued to present its case against the toddler's stepfather.
Tieray Jones, has entered not guilty pleas to charges of murder and felony child abuse following his March 2016 arrest. Jones was the last person to see Jahi Turner alive before the two-year-old boy was reported missing on April 25, 2002.
The defendant told San Diego Police he turned away from the toddler for 15 to 30 seconds while they were at a South Park playground approximately 10 blocks from the military housing complex where they lived.
Jahi's mother was deployed with USS Rushmore the day her son was reported missing. The defendant called 911 from a park near 28th and Cedar streets and told police his stepson vanished when he stepped away to buy a soda from a park vending machine. Listen to the full 911 call here.
Hundreds of volunteers and police officers spent weeks looking for Jahi near the playground. Law enforcement officers raked through 5,000 tons of garbage at the Miramar Landfill, but came up with nothing.
On March 17, 2015, Jahi's mother, who went by the name Tameka Turner at the time, agreed to call the defendant with the SDPD listening on the line.
"Can you tell me exactly what happened that day?" she asked the defendant. "I need to hear it from you."
Jones tells her that when he thinks back to that day, he doesn't think he had walked too far away from Jahi; however, what happened in 2002 has changed how he treats their children.
"Out of everything in my life, sweetheart… it's like one of the only things that it – it seems to be unexplainable," Jones is heard saying on the recording.
Under cross-examination, defense attorneys brought up that the controlled phone call was made when Tameka and Tieray entered divorce proceedings and had begun a child custody battle.
"He's never made an admission. He's never said he has done this and that's because we believe he is innocent," said defense attorney Alex Ozols.
On Wednesday, prosecutors ALSO played several interviews recorded between Jones and SDPD detectives on the day he filed the missing child report. In one portion, Jones described what he and Jahi did in the days befor the child's disappearance.
He also described what he and his stepson did before they left the apartment that morning. Watch that portion of the police interview here.
SDPD Criminalist David Cornacchia testified Wednesday that the crime lab uses a sample from a sipping cup lid as a sample of Jahi Turner's DNA.
He said that sample was compared to a blood stain found on a piece from an Elmo blanket in the apartment rented by Jahi's mother and stepfather.
The DNA matched that of Jahi Turner, Cornacchia testified. Earlier, Tameka Jones testified Jahi often had nose bleeds.
Tests were inconclusive on two blood stains found on the back of a piece of carpet in the apartment, Cornacchia testified.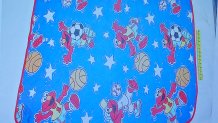 Jones' defense attorney pointed to the DNA expert's testimony as proof that there is no evidence a crime was committed inside the apartment where Jahi lived.
"There's absolutely no physical evidence that this happened in this house and there's no way this could've happened," Ozols said.
On Monday, the toddler's mother, who now goes by the name Tameka Jones, testified that she had moved her son from Maryland to San Diego four days before he was reported missing.
She testified the defendant spoke with her by phone the day after she left on deployment to say Jahi had suffered a bump on the forehead.
Detailed in the arrest warrant is a journal entry from that day.
According to the court document, Tieray Jones wrote, "Today for some reason he hasn't been moving or really talking. Jahi is starting to act really funny he won't get up off the floor. He's not walking or talking when I tell him to get his cup he just looks at me. I know it's going to take some time. But I don't want him hating me for something I can't control. The bump on his head has gone down I put ice on it. It's gotten a little red."
In the arrest warrant, authorities suggest that entry is evidence suggesting Jahi suffered a fatal physical injury while in Jones' care.
Click here to read the search warrant.
In the March, 2015 23 minute controlled call between Tameka Jones and Tieray Jones, Tameka asks Tieray about the "accident."
Jones says in part: "If it was an accident Sweetheart, I would have just said it was an accident. I've never run away from anything."
Jones' defense attorney Alex Ozols said outside court: "At no point did he make any admission within his statement. He's never made an admission. He's never said he has done this, and that's because he's innocent."
Two days later Tieray called Tameka and said Jahi had disappeared from a nearby park, she testified.
Jones' attorneys have said they believe Jahi Turner is still alive.
Though prosecutors say new evidence has been uncovered in the case, authorities have not found Jahi's body or remains, police said.
Jones faces a 25-years-to-life sentence if convicted.
[G] Photos of 2-Year-Old Jahi Turner, Missing Since 2002