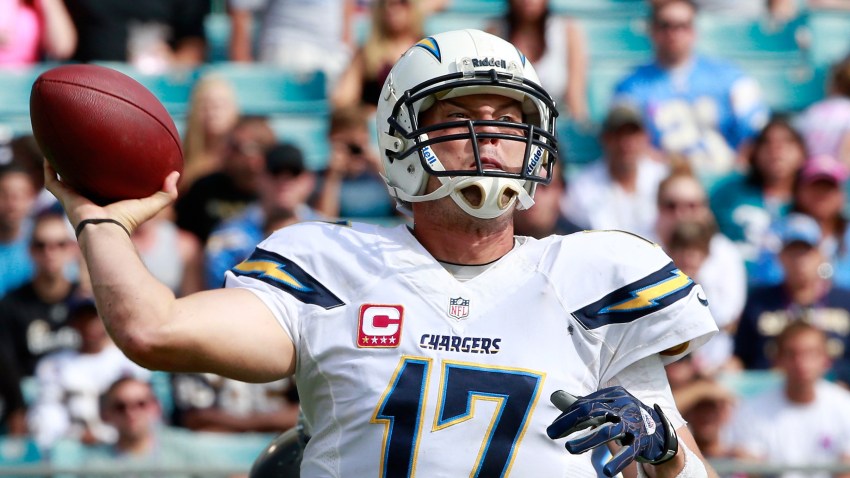 The point of this weekly segment is to highlight players who aren't the typical superstars. Guys like Philip Rivers. This week we will do that, but first we do have to talk about Philip Rivers.
The Chargers quarterback's recent performances against the Jaguars are just too darn good to not talk about.
Rivers is 3-1 in four career starts against the Jags. His lone loss came in 2007, by a touchdown in northern Florida. 2007 also happens to be the last year the Jags went to the playoffs.
Since then, it's been all Rivers all the time. In three games since, all wins (played in 2010, 2011 and 2013), the Chargers have outscored Jacksonville 100-33, with Rivers being almost ruthlessly efficient.
In the three games combined, Philip has completed 66 of 83 passes (a ridiculous 79.5% completion rate) for 913 yards, seven touchdowns and two interceptions. Last year in Jacksonville, Rivers completed his first 14 passes and only missed four throws.
Jacksonville comes in to the game with the worst passing defense in the NFL. It's not just that they're ranked 32nd, it's that they're not even close to the team that's ranked 31st (Denver). The Jags are allowing 21 more passing yards a game than the Broncos. For a little perspective, 21 yards is also the difference between Denver and Baltimore, but the Ravens are ranked 25th, meaning there are five more teams grouped in there.
In Week 2, Redskins QB Kirk Cousins came off the bench and threw for 250 yards and two touchdowns. The very next week against the Giants, with a full week to prepare, Cousins was picked off four times and lost a fumble.
The Jags aren't just bad, they're on the road to being historically bad.
Yes, it's only a three-game sample, but with the way Rivers has played against Cardinals, Seahawks and Bills (three of the league's better pass defenses), it stands to reason he's in for a mammoth game Sunday at Qualcomm Stadium.
However, he won't be able to rely on his usual crew to do it. Injuries have made a rather large dent in the Chargers available roster for this game. And that brings us to this week's players to watch:
Johnnie Troutman or Chris Watt or Doug Legursky, C:
When asked who would be the starting center if Rich Ohrnberger can't play, all head coach Mike McCoy would say is, "We have a plan in place." Well, Ohrnberger can't play, so that plan had better be a good one. Interestingly, for as bad as the Jaguars have been on defense, they do have a good pass rush. Jacksonville is second in the NFL with 10 sacks, so they have the ability to get after the QB. The center helps with line calls, a vital part of blocking, especially when Rivers changes the play at the line of scrimmage, something he has done plenty of the last two years. Whomever does do the snapping will have to know the scheme well enough to put guys in place to give Rivers time to pick apart the porous Jags defense. Troutman has been in the system the longest, but only played a few pre-season snaps at center. Watt is a rookie who played guard at Notre Dame but has been groomed to move to center since the Draft. Legursky has started NFL games at center, including Super Bowl XLV against the Packers, but has only been in San Diego for three weeks. The saving grace here is offensive line coach Joe D'Alessandris, one of the top three line coaches in the game. If anyone can get a guy ready to have success on short notice, it's Coach Joe D.
Richard Marshall, S/CB:
The Jags are giving Blake Bortles, the 3rd overall pick in the Draft, his first NFL start at the Q. The kid is big, strong and mobile, and he likes to get the ball down field. That can be good for an offense because it adds the threat of big plays. But, it can also be good for a defense because more balls in the air mean more chances for interceptions and Bortles doesn't really know how to read an NFL defense all that well yet. Cornerback Jason Verrett is questionable with a hamstring injury so Marshall, who's been playing mostly safety this season, could have more chances to move back to his native CB spot. This is a guy with 18 career interceptions, but he's yet to snag one in 19 games with the Bolts. Something tells me he'll be in the right spot to pick one off, something no member of the Chargers defense has done this year.
John Phillips, TE:
No Ryan Mathews. No Danny Woodhead. Possibly no David Johnson, who's questionable to play. So, John Phillips becomes one of the most valuable assets on the offense this weekend. He's played all three games and not even been targeted in the passing game. But, with Antonio Gates and Ladarius Green, catching the ball is not Phillips' job. He's an exceptional blocker, both in the run game and pass protection. The Bolts will not stop trying to run the ball and just have Rivers throw in 60 times (although something tells me Philip would not mind that too much). They need balance, and even though Brown only averaged 2.0 yards on his 31 carries last weekend in Buffalo and we're not sure how much confidence they have in Branden Oliver yet, offensive coordinator Frank Reich will abandon the ground game. So, Phillips will be a vital piece to make that work. Oh, and don't be surprised to see Rivers peek over and see if he can sneak a pass or two his way, as well.
Derek's Prediction:
People have tried to convince me all week this is a "Trap Game." That's not only false, it's factually incorrect.
A trap, by definition, must be designed to have no way out. After this game, the Chargers play the Jets, Raiders and Chiefs. That's not exactly a Murderer's Row a team might catch itself looking ahead to.
With the injuries, it probably won't be as one-sided as it would be, and jokes aside, Jacksonville does have a puncher's chance to win this one. I've seen stranger things happen in sports. It's just not going to happen this week.
Rivers once again dissects the Jaguars secondary en route to a multiple touchdown, zero turnover day. The ground game is good enough and the defense forces Bortles in to a few bad throws, actually holding on to a couple this time.
Consider this payback for pawning off Derek Cox on San Diego last year.
Chargers 34, Jaguars 20