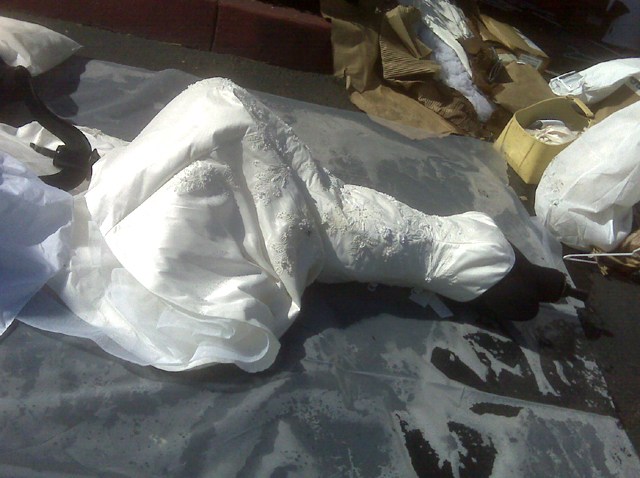 The Isis Bridal Boutique was flooded Thursday, but it turns out nobody needs to postpone weddings or get a new gown.

A car hit a hydrant on Thursday at an industrial mall near the intersection of Mira Mesa and Pacific Heights, then water that geyesered out caused the collapse of the business' roof. Hundreds of dresses were damaged, the owner said shortly afterward.

"We just got very good news!" said boutique owner Courtney August on Friday. "The gowns that actually have already been purchased were kept in a separate loction which does not appear to have been collapsed upon."

And the dresses that were damaged?

"The gowns that have been completely ruined are stock gowns," Courtney said. "They're not for any particular bride."

As the gowns were removed from the building in Sorrento Mesa on Friday, it became clear that many could be salvaged from the deluge of water and roof debris that came crashing down the day before.

"Everything was sort of floating to the back, so I ran around the front and I was going to go into the front," Courtney said. "And then people across said, 'Don't go!' And then the roof caved in."

The boutique's gowns that were due for weddings in the next few weeks were with an off-site seamstress for alterations. The two dozen or so that were recently purchased were found safe and dry, and be can be fitted elsewhere.

"So I don't want anyone to panic," Courtney said. "It's going to be OK. We'll work it out together. I really don't think there's any reason to panic. I really think it's gonna be OK."

Courtney and her husband, Evan, who bought Isis around the time of their wedding last spring, have vowed to regain their momentum after the sky fell in on them.

"It's just a fluke instance," Evan said. "It was total devastation yesterday. We couldn't believe it. It was just a situation I could never imagine."

One of the dresses that was found undamaged -- along with the ones recently purchased -- belongs to Courtney.

As for the stock gowns that appeared to have been ruined: The boutique's dry cleaners thinks they may be able to save as many as 20 to 30 of them.