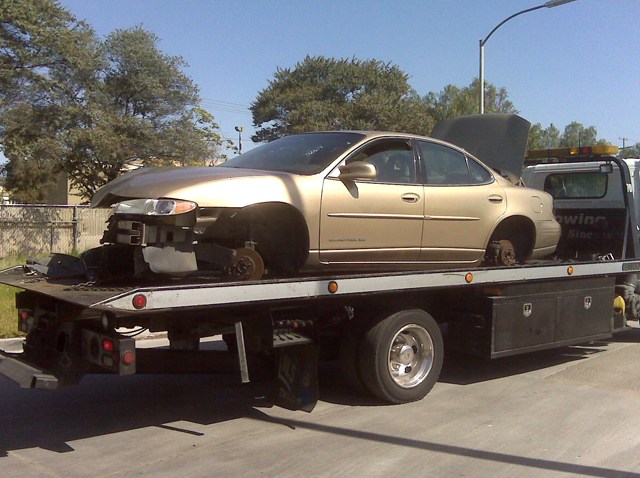 A car believed to have belonged to the man accused of murdering Chelsea King was towed from an Escondido wrecking yard on Thursday morning and taken to a city holding facility.

As of 1 p.m., Escondido police had not returned a phone call to confirm the car did, in fact, belong to Gardner or the circumstances surrounding the impounding of the vehicle. Earlier this week in San Diego Superior Court, Judge David Danielson issued a gag order in the case involving John Gardner, who, in addition to being a suspect in the King case is also a focus of the investigation in the death of Amber Dubois.

The owner of Cardinal Auto Wrecking, however, said detectives asked him not to comment on the vehicle, an indication that there is a possible connection to Gardner.

The owner would not say, however, who brought in the vehicle to the salvage yard or confirm when it was brought in. The yard is located exactly three blocks from Gardner's last known residence in Escondido on Rock Springs Road.

The car towed from the wrecking yard on Thursday morning is a gold 1999 Grand Prix. That information may be significant. In October, a man bearing a resemblance to Gardner in a composite sketch was being sought in Riverside County for attempting to force a girl into a car at gunpoint as she walked to school. The girl was able to run away. She described the suspect's car at the time as a "'90s era gold four-door sedan, unknown make." That description would seem to match the car that was towed from the wreckage lot on Thursday.

The car was at the tow yard since January, sources said. The owner of the wreckage yard would not confirm the date but did say the vehicle identification numbers were forwarded to the DMV and Department of Justice, as is required by law. He also said the car was brought in with "front end damage." When it was towed away Thursday, the car appeared to have other damage as well. However, that could have been because parts of the car had been used as salvage.

Gardner is being held without bail. His preliminary hearing has been scheduled for Aug. 4.
Copyright AP - Associated Press