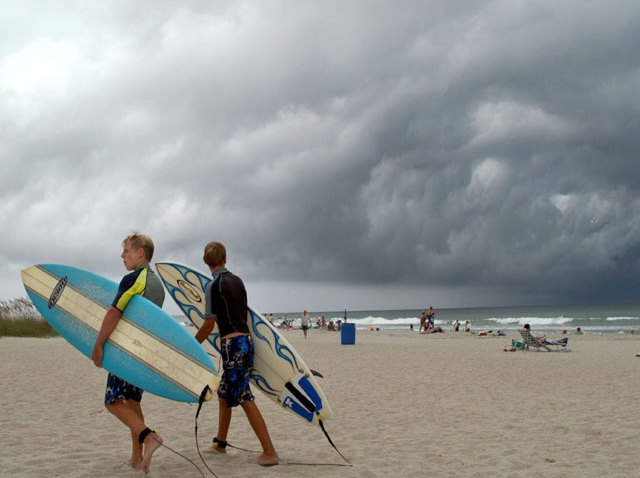 Weather and news reports have been talking about the prediction of a possibly wet winter for months. The answer to the question "How much rain will we get this year?" may be just around the corner.
On Monday, the first of what could be a string of wet, powerful, El Niño storms is due to arrive. Don't ask what time because nobody can give you an honest, accurate answer. Chances are the forecast won't be close until sometime late Sunday.
What forecasters are relatively sure of however, is that we are going to take a hit - a very wet hit.
There are actually two systems headed this way next week but, since not much of a break is expected between them it may very well end up seeming like one -- one very large, long, powerful, wet and windy storm.
The first is due to slam into the county sometime on Monday which is when the heaviest rainfall is expected. The second storm is due on Thursday or Friday with off and on showers from the first, sticking around for at least Tuesday and Wednesday.
West of the mountains we could end up seeing 4 to 8 inches of rain. In the mountains and foothills we could get 2 to 3 times that much. In other words, we could get as much or more rain in just one week than we've gotten during any of the previous winters since 2004.
And, we're not done yet. The change in the jet stream, which is the strong, upper-level winds that deliver storms to the west coast, is expected to last, possibly to the end of the month. So we could be in for even more wet, stormy weather for maybe the next two weeks before we get any kind of break.
This series of storms is expected to cause a number of problems for emergency crews. As rivers rise there could be widespread flooding, and, with these heavy amounts of rain we could also see mud and landslides and numerous trees uprooted. The winds can add to the damage, breaking off tree limbs or downing power lines.
In the local mountains we could end up with a foot or more of snow by next weekend and maybe 3-4 feet of fresh powder up at the ski resorts at Big Bear and Wrightwood.
If your property is prone to flooding or frequently is adversely impacted by torrential downpours then you need to prepare and take precautionary measures this weekend; my Monday it could be too late.
If you'd like to learn more about exactly what an El Niño is and why it can potentially cause such severe weather, click here to link to the National Weather Service.