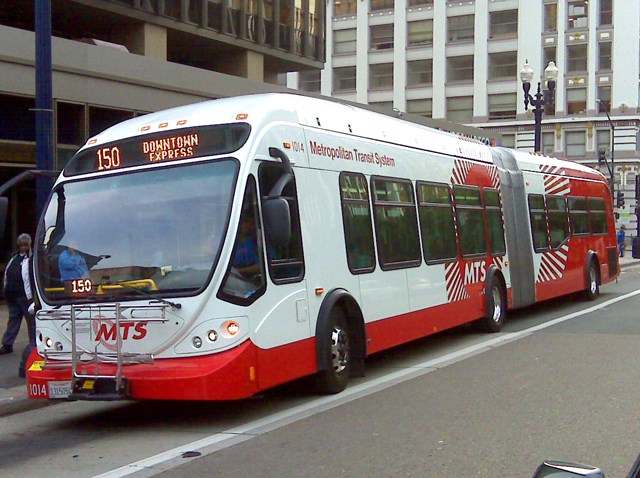 At a time when it's raising fares and cutting routes, the Metropolitan Transit System is passing up a funding source: advertising on the exteriors of its red-and-white buses, and the potential revenue could have bankrolled at least one bus route for a year.
For MTS policymakers, it seems to be a case of favoring image over income.
Since 2004, new MTS buses have come in a red-and-white color scheme, which replaced the one on older blue-and-white buses, which carry exterior ads. The red-and-whites only carry MTS "branding," and that's apparently how the agency's board of directors wants to keep them rolling.
San Diego City Councilman Todd Gloria, who is also an MTS board member, was the only MTS director who voted last month against keeping the system's red-and-white buses free of exterior ads.
"Certainly the buses are prettier without the ads, but it's a small price to pay to communicate that we're all sacrificing during these difficult times," Gloria said.. "[bus riders] have to pay a bit more and wait longer for buses. [The MTS is] going to have to put ads on the side. And collectively, we'll get through these difficult times. Unfortunately, I was not able to get a majority of [MTS board] support to come with me."
Even though ad revenues on the old blue-and-whites are slowing down, consultants said that selling space on the red-and-whites could reap more than $300,000 a year. That's an abstract projection, however
"Right now we have unsold inventory on our buses," MTS spokesman Rob Schupp said. "So whether or not we could sell those -- that remains to be seen ... we think our branding and image is a way to increase our revenue as well."
That also remains to be seen.
MTS riders sound less concerned with branding and image than they are with fare increases, route cuts and leaving money on the curb.
"That doesn't make sense -- especially if they're jacking up the prices, too," said Kelsey Kusa, a downtown resident who takes a bus to work at a beauty salon in Mission Valley.
"For the bus -- the image of it?" Kusa asked, rhetorically. "You need a ride, you know what I mean? You need the ride to get to where you want to go."
Adds Lucy Moiseenko, a Vancouver, B.C., resident on a visit to San Diego: "When I'm taking the bus, it's not about an image thing. I'm just trying to get somewhere for a good price. So I don't really care -- as long as [the bus is] clean."
With MTS running a $7 million budget deficit, officials are looking beyond buses and trolley ads: They're thinking about offering naming rights for trolley and transit stations, electronic ad displays and ads on kiosks and fare machines.
"We have a lot of things that can increase revenue," Schupp said, "so we don't have to cut service more."