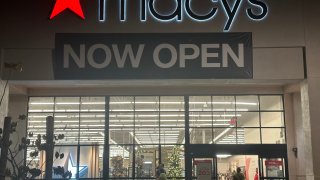 Macy's has expanded its small-store format to San Diego in an effort to offer more convenient shopping, increase customer visits and add new shoppers.
The department-store chain said in August that one of the small-format stores had already opened in Indiana the previous month and that it had plans to open others in Boston, Las Vegas and San Diego. The sites range in size from 30,000 to 50,000 square feet, roughly one-fifth the size of its regular department stores.
Macy's operates about 500 stores under the namesake brand.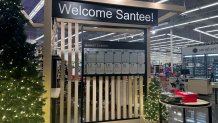 The new Macy's at Santee Town Center, which is about 30,000 square feet, is just off Mission Gorge Road, tucked between TJ Maxx and Old Navy.
Macy's employees are set for Black Friday and holiday shopping, with Christmas trees framing the windows and providing a welcoming glow as customers walk in, and, at least this week, there was a steady stream of shoppers, both young and old.
The new store's design features clean, modern lines; bright lights; and newly polished gray floors with neatly stocked aisles featuring brands and products one would expect at a typical Macy's including makeup, clothes, shoes, boots, handbags, as well as the expected name brands, but also high-end handbags like Prada, Valentino and Gucci. Those, though — rarely seen at a Macy's — are locked up in a glass case.
The store also features a small Toys-R-Us section, where Geoffrey the Giraffe is seated on a blue bench providing a break for worn-out shoppers. While small, the toy selection is stocked with gifts for children of all ages.
Nordstrom; Kohl's; Macy's upscale sister; Bloomingdale's; as well as big box stores like Target have been expanding to small formats for several years, but the trend gained momentum after the pandemic shifted more shopping to the suburbs and away from cities.
Macy's smaller department stores are not in traditional malls but rather in strip malls anchored by discount stores. They offer a slimmed-down assortment of trendy and basic fashions, as well as beauty and fragrances, along with services that allow shoppers to pick up online orders at the store.
Macy's noted that the smaller stores that have been open more than one full fiscal year achieved positive comparable sales including licensed businesses.
The retailer announced plans in February 2020 to close 125 stores over three years and lay off about 2,000 corporate employees. Macy's operates eight locations around the county, at the Fashion Valley and Mission Valley malls in Mission Valley; as well as in University Town Center, National City, La Mesa, Chula Vista, Escondido and Carlsbad.