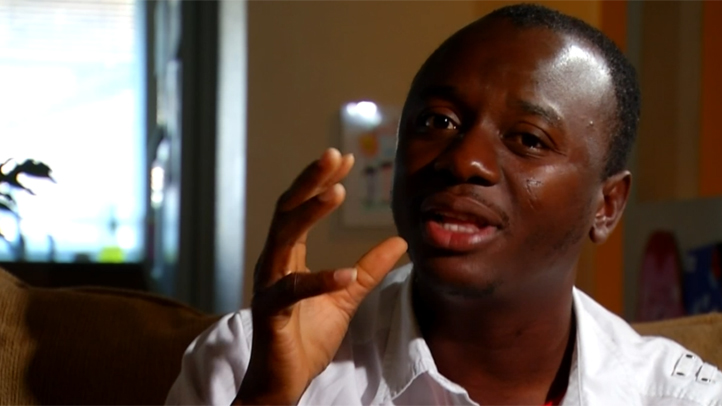 Albert Anarwat, 24, worked as a nurse in his home country of Ghana, Africa. His passion was helping others.
"If you look at where we are coming from, we have a lot of problems, health issues," he said.
Raised by farmers in a small mud hut, Albert dreamed of a better life.
"I wanted to help my family, put them in a better position."

Last September, Albert decided to come to the United States to get his Master's degree in Public Health. A friend told him about Aristotle University in Carlsbad. The program cost $25,000 for a two-year course.
He sold everything, used his entire life savings, about $10,000 to move to the United States. He says he's paid $3,000 to Aristotle University. But, when Albert arrived in September, it was nothing like he had envisioned. Instead of a large sprawling campus, the entire University was in one room, in an office building.

Albert told NBC7, "It's just an office. There's no library. There is nothing. Just a few chairs."

Albert says the director of admissions said they would help him find a job and assist with housing, while he was a student. But, Albert was dropped off at a motel and the job never came. He was thrust into a classroom with other international students, into a course that was already eight months in progress.
Albert says class is held once a week. He says most of the time they watch educational videos and use old textbooks. At one time there were more than 20 students, Albert says less than a dozen attend now.
"The issue is, if we are paying at the end of the day what am I going to get from it? I am just going to get a mere paper that cannot take me anywhere? And I cannot defend the course because they are not giving me the best and you go home and they say you have Masters in public health and you have nothing."
On its website, Aristotle University claims it is licensed by the Bureau for Private Post-Secondary and Vocational Education, but a spokesperson from that bureau told us there is no record of it ever being licensed by the state.
The spokesperson also says it has begun a preliminary investigation of Aristotle's claim, based on our inquiry. The University's website says Aristotle is also a law school. But the school is not registered with the State Bar of California.
NBC 7 checked to see if Aristotle had a business license in the City of Carlsbad and found none.

Lisa Robinson works for a nursing agency and befriended 8 of the students.
"I went to the police department, who referred me to the city code enforcement, who referred me to business and licensing," Robinson said. "It was just this big circle."
She tried desperately to get them help from nearly 30 different agencies or elected officials. She says no one will help her.
"I just hate injustice and I just can't believe this is happening , you know I can't believe this is happening to human beings."
Albert isn't the only student who has complaints about Aristotle University. We received e-mails from other Aristotle Students.
One student from Cameroon wrote an email that stated in part, "There are no professors, classes are held once a week on Monday and if Monday is a holiday then no class for that week. The situation is not anything I had anticipated, not even in my country had I seen such meaningless education offered to students."
This was an email from a student from Ghana: "I claim to be pursuing public health, but unfortunately I cannot speak on public health related issues. This is because I am studying fiction. There is no doubt that, Aristotle University have lured us immigrants into the USA only to use as money making machines at the expense of our future."

Another email provided to NBC7 by a student shows that if tuition payments are late, the schools' Dean and co-founder, Xanthi Gionis says they will be stripped of their student Visas and Deported. This is the reason students are scared to speak out.
"So because of that, most of us are paying the fees not because of the school. Because we are just paying to live in the United States. Because we don't want to get immigration problems," said Albert.
NBC 7 reached out to the co-founders and deans Dr.Thomas Gionis and Xanthi Gionis, to get reaction to the accusations. NBC 7 called the number listed on Aristotle University's website, but there was no answer or voicemail. Meantime NBC 7 sent Xanthi Gionis an email asking her to respond, within minutes, the school's website was taken down.
NBC 7 went to the classroom on Palomar Airport Road. No one was there. We did get a response by email from Xanthi Gionis on Friday. She told us the school had been sold, but she wouldn't give us the name of the new owner. A public records search didn't provide any indication it had been sold.
Sunday night, students received an email from Xanthi Gionis stating that classes has been relocated to a new office building on Carlsbad Village Drive. She told one student to bring a tuition check to that location for $1,000 dollars.

Monday morning, NBC 7 went to the school's new location. Xanthi Gionis was there, but closed and locked the office door when NBC7 asked for a comment. Then Xanthi Gionis called the police.
But Carlsbad police officers said NBC 7 crews were acting within their legal rights.
Meanwhile, Albert says all he wants is a real education and to get his Master's degree in public health.
"I cry every day," he said. "I weep every day. I never knew there could be something like this happening in the nation like United States."
He wants to feel like someone in the U.S. cares about him, just as much as he cares about helping others in his home country.
"Sometimes I look at the world and say it's very unfair."