Lucio Santos was born in Mexicali, Mexico in 1992 with a cleft lip and palate. His mother, Guadalupe Moyron, said she knew Lucio needed immediate help because her baby couldn't eat. She made an appointment to see a doctor but to her despair, the doctor didn't show up.
On the very day Moyron was turned away from the clinic, she heard a radio advertisement for the San Diego-based nonprofit Fresh Start. The organization was coming to Mexicali from San Diego to offer surgical help for children in need.
"I showed up and the line was extremely long. Two blocks around," Moyron said through a translator. "That's how long the wait was. So I was just desperate."
Moyron's desperation turned to action, and she rushed to the front of the line and put baby Lucio into the arms of Fresh Start founder, Dr. Dennis Nigro.
Lucio, now 26 years old, said Dr. Nigro made him a promise when he was just three months old.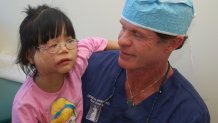 "When he saw me he said I was going to be his life project from beginning to end," Santos said.
Shari Brasher, now Fresh Start's CEO, said she remembers Lucio as an infant.
"With every patient, it's incredible," she said. "But really, because Lucio is the first patient that I actually remember, it means more because he's come so far and accomplished so much. I've cried many tears telling the story about him."
It would take Lucio more than two decades and 23 surgeries, traveling across the border each time into the United States for treatment, to make this life-altering transformation.
"It's a big transformation," Santos said. "They changed my life. So, I think that's what makes me the person who I am right now."
Lucio Santos' Facial Transformation Journey
A team of volunteer doctors, donors and a partnership with Rady Children's Hospital allows Fresh Start to help kids like Santos for free. Since 1991 the nonprofit has helped nearly 8,000 children.
Santos remembers being teased by his peers along his emotional journey, but ultimately, the experience changed more than just his outward appearance.
"I can remember him at about 6 years old saying that one day he's going to want to be a doctor and give back," Brasher said.
And step by step, that dream is becoming a reality.
"Just like Fresh Start changed my life, I hope one day I can change some child's life too," Santos said.
Santos is the first in his family to graduate medical school in Mexicali. He's now doing his residency in general surgery in Mexico City and is one step closer to his goal.
"To achieve my dream," Santos said. "That is to become a plastic surgeon so I can give back like they helped me."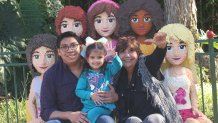 Santos is well on his way to achieving his professional dream, and he's also a father to a little girl.
He's achieving far beyond what his mother ever dreamed possible. Moyron said she is grateful for who she calls "the angels of Fresh Start" who kept their promise to her son.
They changed Santos' appearance, but more importantly, forever changed his heart.
"When you are with people that treat you like family like Fresh Start, you feel like you're not alone and that you can be everything you want," Lucio said.
Fresh Start is looking to help more young patients with physical and cosmetic deformities caused by birth defects, accidents, disease or abuse. Click here to apply for help or to see a list of procedures and treatments.