There are nearly 1.5 million more registered voters heading to the polls this California gubernatorial election than the last one, according to a new report from the Secretary of State of California's office.
There were 19,086,589 Californians registered to vote as of Sept. 7, the department said.
This means more than 75 percent of the state's eligible voters are registered.
It's the largest amount of registered voters for a general election in the history of California, according to the secretary of state.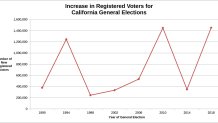 "The next step for our registered Californians is turning out to vote," said Secretary of State Alex Padilla. "I'm also calling on elections officials and community leaders to help inform voters about their options for participating."
The secretary referenced the state's Voter Information Guide and Quick Guide to Props to help California's make a decision come November.
To check if you are registered to vote, see the secretary's voter status website.
The last day to register online or by mail is Oct. 22. The general election is on Tuesday, Nov. 6.