A San Diego man who shot and killed his parents was sentenced to 100 years to life in prison Friday, at one point turning to the courtroom to say he's not a "dangerous person" and would never do it again.
"I would never want something like this to happen again in my life. I would never want to murder anybody else. Because look at what it's gotten me into," said Peter Haynes, addressing the court in an unexpected, last-minute decision.
Haynes received 50 years for the death of each parent, David and Lissa Haynes, prosecutors confirmed. His first chance to parole out of custody will be decided 25 years from now.
"So please just understand that I'm not [a] dangerous person; if I ever do parole out," said Haynes. "I would never own another gun; I would never stop taking my meds. I would stay the most peaceful man I could ever be, because look at the war. Look at what it's gotten me into."
We are minutes away from the sentencing of Peter Haynes, the man who killed his parents at the Sunset Cliffs in 2014. #NBC7

— Gaby Rodriguez (@GabyR_news) June 9, 2017
The murder happened in 2014, the day after Thanksgiving, in the Sunset Cliffs home where Hayne's parents lived.
His defense attorney said Peter was 23-years-old at the time of the killings and had no prior criminal record. When Peter moved away to Colorado, he had a psychotic breakdown.
A doctor of psychiatry at UC San Diego found that Peter's brain shows clear signs of suffering from schizophrenia, said the defense attorney.
At the sentencing, the judge said she was glad to finally see Haynes express some remorse for what he had done.
The judge said an eerie 911 call from Peter's father while he sought help for his wife was one of the "most haunting pieces" of evidence she's ever heard during her 15 years on the bench.
She said mental illness played a significant factor in the tragic killing of Peter's parents.
In a family impact statement read by Peter's uncle, Dr. Kevin Haynes, he asked the court to remember the victims and the kind people they were.
"Instead of a happy family gathering, our Thanksgivings are now an annual tragic reminder of that night in 2014," he read in court.
"We are devastated by what Peter did, and a deep part of us is scarred in a way that will never be the same. Peter ended the lives of two of our closest family members," Kevin added.
Peter's parents loved him unconditionally, working in health care and providing him with opportunities in education, sports and travel, the uncle said.
David was a well-respected physician, and his patients held a separate memorial service for him. Lissa was a nurse who loved animals, traveling and tennis.
Kevin said he is still haunted by his first visit to the crime scene.
Before Lissa was killed by her son, she had left a plate of Thanksgiving dinner out for Peter on the counter, along with a warm note to him, Kevin said.
"But that plate and that note, signs of her compassion and unconditional love for Peter, sat untouched in a room still strewn with David and Lissa's blood," Kevin said to the court, his voice calm.

"I hope he spends the rest of his life in jail," he added, unflinching. "I would be concerned about the safety of my family if Peter were ever released regardless of how long it had been."
Haynes entered guilty pleas to two counts of first-degree murder after shooting and killing his parents in their Point Loma home.
On Nov. 28, 2014, San Diego police officers found the front door ajar at the home of David and Lissa Haynes. They had both been shot to death. The couple died a short time later at a hospital.
His father's last words were: "My son shot me... with a Glock," according to a police officer's testimony. "He is schizophrenic."
Haynes received treatment at California's Patton State Hospital after his arrest. His defense attorney said he could not understand the charges against him and assist in his defense.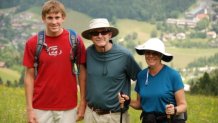 His sister, Kimberly, told NBC 7 San Diego Haynes had been diagnosed with paranoid schizophrenia.
However, a court ruled him mentally competent to stand trial.