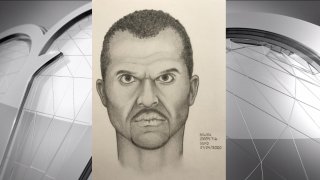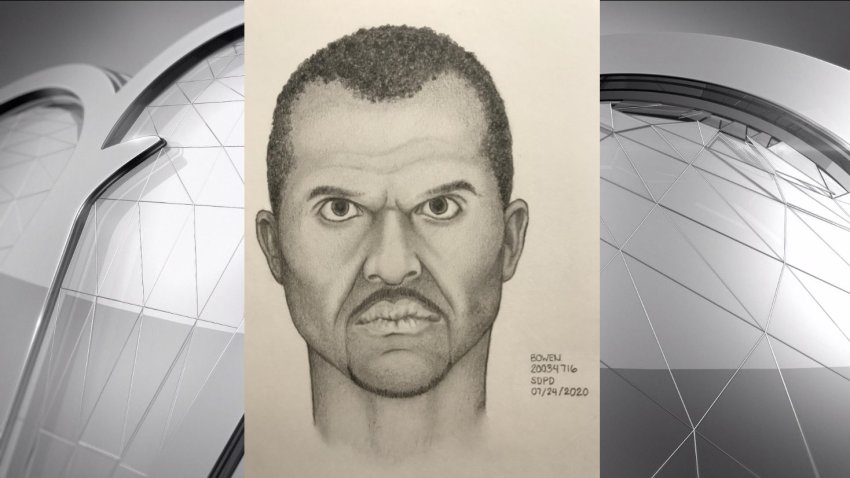 San Diego police have released a sketch of a man accused of strangling another man at a park in Emerald Hills just after he flashed a box cutter and allegedly told the victim, "I'm going to kill you."
San Diego County Crime Stoppers released a composite sketch of the suspect Thursday wanted in the attempted homicide case.
According to investigators, the man – described as being around 40 years old, with a thin mustache and goatee – walked up to the 23-year-old victim at Emerald Hills Park on Bethune Court on July 11.
It was 1:50 p.m., plain daylight. The suspect allegedly tried to grab the victim's cellphone from a table at the park, and the men began to fight, police said.
The suspect then pulled out a box cutter and threatened to kill the victim. He stabbed the victim on his arm and strangled him.
The San Diego Police Department said the victim of the attack suffered a wound to his arm that required 18 staples, but he survived.
The suspect was last seen leaving the area on foot, walking into a canyon near Kelton Road and state Route 94.
Nearly a month later, he remains at large. Police hope the public release of the sketch sparks fresh leads in the case. The SDPD said the suspect was about 6 feet tall and 170 pounds. He was described as possibly having jaundice – or some yellowing condition – on the white portion of his eyes.
He wore a bright orange, flat brim, snapback-style hat with a white-colored "C" on the front during the attack. He was also wearing an oversized navy hooded sweatshirt, dark sweatpants, and a gray backpack with zebra stripes, police said.
The investigation is going. Anyone with information on this case can call the SDPD Southeastern Division at (619) 527-3530 or the Crime Stoppers anonymous tip line at (888) 580-8477. Tipsters can remain anonymous. A $1,000 reward is being offered by Crime Stoppers to anyone with information that leads to an arrest.