One entry in the annual Coronado Independence Day parade Wednesday stunned the crowd - Tom Cruise in a flight suit smiling and pointing to people from atop a fighter jet cockpit.
Except this Tom Cruise was a doppleganger, a man who looks so much like the Hollywood actor, he might even dupe the most loyal of fans.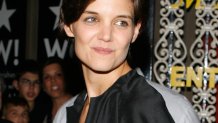 Jerome LeBlanc of Ramona, California, has made a living out of impersonating the star of "Top Gun" and "Mission Impossible" in southern California for seven years.
"The reaction is just fantastic," said LeBlanc on Thursday from Montgomery Field Airport, where he works as a host with the company San Diego Sky Tours.
Originally from Montreal, Canada, LeBlanc's first language was French. He trained himself over the years how to laugh and talk like Cruise.
"I came to the states to study architecture and finish my degree at UCLA," said LeBlanc. "I couldn't find a job so I went on Hollywood Boulevard and I started street performing."
LeBlanc now gets about two to three gigs a week. He performs in different states and even has a gig in Australia coming up.
LeBlanc loves to entertain crowds around San Diego, a city with strong ties to the movie "Top Gun."
The iconic 1986 movie features many scenes in San Diego, including a famous piano scene with Cruise and Meg Ryan, where a piano is played in the Kansas City BBQ restaurant, located downtown.

In early June, the Department of Defense and the U.S. Navy confirmed to NBC 7 San Diego that "Top Gun 2" was filming at Naval Air Station North Island in Coronado.
The movie is scheduled for release in July 2019.

If you want to know more about LeBlanc, click here.