NBC 7 meteorologist Dagmar Midcap had an interesting on-air mishap that had many viewers wondering -- is her chicken OK?
Midcap -- with her passion for animals and the environment -- has quite the zoo at home, with bunnies, both large and small; birds, including budgies and parrots; turtles and, of course, dogs and chickens.
The meteorologist said her dog Dolly had been very used to daily walks, many times even twice a day. But lately, their schedule has changed.
Midcap has been working on a new "Down To Earth with Dagmar" story for the last three days. And research for that consists of very late-night Zoom interviews with conservations and officials in Rwanda and South Africa -- both nine hours ahead of San Diego.
Midcap then has to view the footage to write her story in any spare moment, which meant poor, little Dolly didn't get her regular "walkies."
As a result, Dolly was super high on energy and decided to show her displeasure by "tap dancing" on Ginger the Chicken!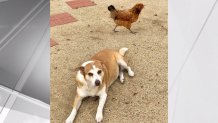 They have been buds since Midcap rescued Ginger during Clear The Shelters last year. But they picked the worst time for a scuffle about 10 seconds into Midcap's first weather segment on NBC 7 News at 4 p.m.! She heard squawking and looked to her left to see a blur of wings and paws.
Midcap said Dolly got a time-out while Ginger rearranged her feathers into something more dignified and then all was well.
Follow NBC 7's Dagmar Midcap on Facebook, Twitter and Instagram.