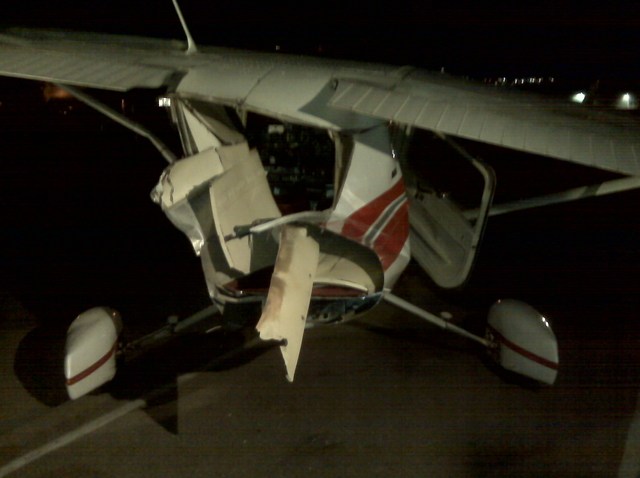 Jamul resident Frank Mooney enjoys watching planes. That's the reason he drove his new truck down to Gillespie Field on Wednesday afternoon.
"I was actually going down to watch the planes take off and land," said Mooney.
But something happened along the way to the airfield. "For some reason I blacked out," Mooney said.
Mooney's white truck veered off North Johnson Avenue and crashed through an iron fence at Golden State Flying Club. "I heard a giant smash and an engine revving up,"said one witness who didn't want to be identified. "He made a right turn and a left turn."
The truck struck three private planes, all of them single engine Cessna's, pushing one plane like a bulldozer for more than 200 yards before coming to a stop. Two of the planes were split into two pieces. "Fortunately none of the aircraft were occupied at the time,"said Lt. Jeff Davis.
"I don't remember anything until I got right here,"said Mooney. He believes he may have blacked out because his sugar levels were low. "Trucks can be replaced, airplanes can be replaced,"Mooney said.
But humans can't be replaced, and in Mooney's case, his dog Miss Bailey can't be replaced either. She was also in the truck. "The dog's a little nervous, I'm not nervous, but like I said I'm thankful no one got hurt."
El Cajon Police investigators don't believe alcohol or drugs played a role in the crash. Two of the planes belong to Golden State Flying Club. It's unclear if the owner of the third plane has been notified about the crash.